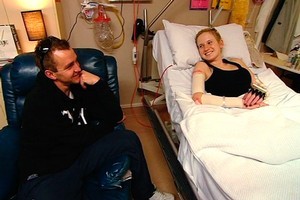 She may not be able to walk down the aisle but Stacey Reeves is not letting it stop her marrying the man she loves.
The 22-year-old, whose legs had to be amputated after she was severely injured in the February 22 quake, is scheduled to marry her fiance Nick today.
The details of the wedding are a closely guarded secret but Ms Reeves has revealed how much she has been looking forward to it as she endures a slow, difficult recovery from her injuries in Christchurch Hospital.
"I just can't wait to marry him," she said in an interview recorded at her hospital bedside for the Rise Up Christchurch Telethon.
"I wanted to marry him in ICU [the intensive care unit], but I was on too many drugs and I wasn't allowed to. I would have remembered [being married], I'm sure of it."
Ms Reeves admitted she had dealt with a lot of emotions since the quake and losing her legs, and "it's still pretty hard".
She was on the top floor of the Christchurch Press building when the quake struck and the roof collapsed inward. A colleague trapped near her died.
"I think after the initial collapse I must have got knocked out, but I was awake for the rest of it."
She did not have a cellphone to call out on, but she got a colleague trapped with her to send a message to her fiance telling him she loved him.
Trapped for several hours, she recalls being on her side with her head on the floor and a concrete slab pressing down on it that made her feel like her head would be "crushed open" when people moved about.
"Actually the first part I do remember is [rescuers] trying to pinpoint where I was, and trying to shine the torch and see if I could see the torch."
She could not see the torchlight, but heard rescuers shuffling in the rubble before they got to her.
Ms Reeves is one of many who suffered serious and life-changing injuries in the quake.
Another woman, Kate Barron, 24, also had her legs amputated as the result of injuries she suffered, and has been recovering in the same hospital ward. Ms Barron is reported to be stable and doing well.
Ms Reeves said: "They say how many people have died, but they have never really tallied the [injured] people and how severely injured they are, and who are still in hospital."
She has not lost her sense of humour, joking that spray tans will now cost her half what they used to, and that she will get the best parking at shopping malls.
A major fundraising effort - co-ordinated through the Rise Up Stacey trust and Facebook site - is under way to support her in her recovery.
Donated items have been offered for auction, including a doodle of the Beehive by Prime Minister John Key which raised $585.
The Mad Butcher, Sir Peter Leitch, has offered to fly her to Auckland for a holiday when she is well enough to travel.
To support Stacey Reeves, visit www.facebook.com/riseupstacey