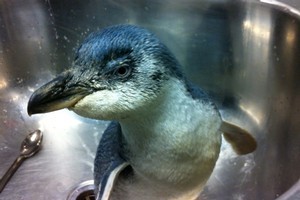 A white-flippered penguin found lost and forlorn on the Banks Peninsula about three weeks ago is causing his rescuers a bit of a headache.
Now being cared for at Christchurch's International Antarctic Centre, the 16-year-old penguin, nicknamed Morgan, is refusing to swim.
When placed in water, he uses his beak and flippers to quickly haul himself out the water, The Press reported.
He was the first mature penguin at the centre who simply refused to swim, centre director Richard Benton said.
"This is a really unusual penguin."
Penguin keeper Mallorie Hackett said Morgan was "full of character" and was "definitely a ladies man".
It is hoped Morgan will befriend Parnia, a single white-flippered penguin, when he is introduced to the main penguin group.
White-flippered penguins are one of the smallest and most endangered penguins in the world and are endemic to Canterbury, breeding only on Banks Peninsula and Motonau Island.
- NZPA