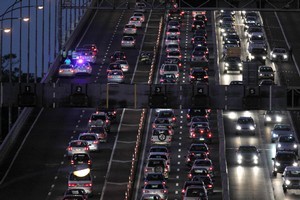 Traffic heading north out of Auckland and over the harbour bridge will have a new route on Monday in what the NZ Transport Agency (NZTA) says is a significant milestone in the biggest road construction in the country.
New lanes will take traffic over the top of the northern exit of a new tunnel being built to take northbound traffic.
NZTA's state highways manager for Northland and Auckland, Tommy Parker, said the on-ramp had been an important part of the tunnel project that has posed both engineering and traffic management challenges at New Zealand's busiest motorway interchange.
He said the Victoria Park Tunnel project was the largest road construction project under way in the country and the first of the Government's seven roads of national significance.
It would remove the last significant traffic bottleneck on Auckland's central motorway network.
The tunnel under Victoria Park would take three northbound lanes and south bound traffic only would use the Victoria Park overbridge.
The tunnel was due to open to two lanes of traffic in early November and the entire project would be completed next March.
- NZPA