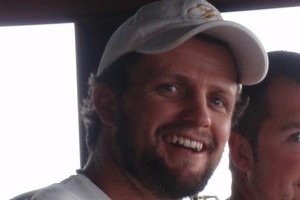 A New Zealander working on superyachts during his OE has died in a French hospital after a light-hearted stunt went wrong.
Brendon Pyle, 28, suffered head injuries and a punctured lung after falling while riding a rubbish bin down a flight of stairs in the upmarket Mediterranean resort of Antibes, on the French Riviera.
He spent two weeks in an induced coma, and his life support was switched off on Tuesday.
The former Mahurangi College and Lincoln University student had been working on superyachts, mostly as a chef, for four years.
A French radio station reported that Mr Pyle, from Warkworth, was out with New Zealand and Australian sailors on May 10 when he attempted the stunt with another person.
The other sailor was believed to be uninjured.
A former colleague wrote on Mr Pyle's Facebook page: "He had a few drinks and rode a wheely bin down some stairs ... It's the sort of daft thing he would do but normally walk away from with a big grin."
Mr Pyle's parents, Kevin and Noelene, and siblings Amy and Johnny immediately flew to be with him in an Antibes hospital.
They reported his status online:
"Brendon is in an induced coma and they are trying to stabilise his blood pressure and kidneys before they look to bring him out of it.
"MRI scans are pending, his lung is fine but a bruised chest and he has a fractured skull ... It is still early days."
But on Tuesday, tests indicated Mr Pyle would not recover from his injuries.
His sister Amy reported early yesterday morning: "Unfortunately following the test ... he was declared clinically brain dead and as a result he was taken off life support and he passed away last night."
Mr Pyle was a talented surfer and diver, and friends described him as a "wonderful young man" who charmed those around him with his kindness.
In his last comments on his Facebook page, Mr Pyle spoke of an "epic" trip to Sri Lanka where he surfed "3-5 foot ... fun as rippable breaks", and of looking forward to catching up with friends on the French Riviera.
He also wrote of travels to every corner of the Earth - Monaco, Norway, Chile and Malaysia - where he threw himself into snowboarding, wakeboarding and surfing.
A "Brendon Pyle Fighting Fund" has been set up to cover his hospital fees and his parents' travel. It has raised nearly $7000.
Relatives Jason and Brenda Brown, who set up the fund, said they were "proud that we all fought one last fight for our mate and can at least express to his family in some way the degree of love and regard with which we held Brendon."
A memorial service will be held today in Nice before Mr Pyle's body is flown home.