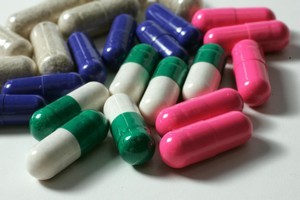 An ailing 76-year-old grandmother who sold illegal drugs says she is deeply upset to have been branded a criminal and ordered to be detained in her home.
Shirley Adeline Williams told the Herald: "I've been a Christian all my life and done good for everyone."
Williams and her daughter Christine Edna Young, 55, were sentenced in the Nelson District Court to eight months' home detention after admitting a charge of selling BZP - a drug used in party pills that was outlawed in 2008.
Judge Tony Zohrab told the court, "In many respects this would almost be a comedy ... if it wasn't so serious," the Nelson Mail reported.
Young, branded the main offender, was also ordered to do 180 hours' community work.
The two women sold BZP from last September to January 25 this year from their Richmond gift shop Something Different, which also sells soft toys, T-shirts, tarot cards and incense.
A police search found BZP with an estimated street value of $20,000. Young admitted selling capsules of the drug for $20 each and took between $600 and $800 a week.
Judge Zohrab said Williams sold the drugs over the counter but was unaware of them in the other part of the house and didn't benefit financially from their sale.
Young told the Herald she had made a mistake and admitted her guilt, but she had been led to believe she was part of a trial providing safer alternatives to hard drugs.
She conceded she had been naive, and regretted getting her ill mother involved while manning the counter.
"When I wasn't here she sold them ... so of course she was involved a bit. I made a silly mistake which has cost me. And I tell you my mum didn't realise the extent of anything - I didn't realise the extent of it. For my mother, at her age, it is terrible."
Young said financial difficulties meant "in some ways my back was up against the wall".