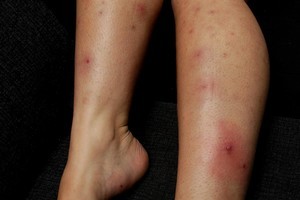 The hair salon that chemically straightened a woman's hair which later fell out was visited by health and safety inspectors yesterday.
The Department of Labour staff went to Hair Co at LynnMall in New Lynn after the Herald reported Kirstine Morris' major hair loss.
A department spokesman would say only that the visit was to "see if there is anything we need to follow up".
The visit came as more women made allegations of injuries suffered after treatment at Hair Co and its sister shop, Beauty Co.
Ivana Aldridge, 19, paid $15 to have her legs waxed at Beauty Co last Saturday. Both legs became infected, leading to painful boils and blisters.
"I've had to go to my family doctor. It's hard to bend down, it's hard to sleep. I'm always going to have the marks on my legs."
A salon staff member who identified herself as Bernadette contacted the Herald to deny the salon was responsible.
She said beauticians at the salon had never seen Ms Aldridge.
Ms Aldridge provided the Herald with a bank statement which showed she had paid the salon $20 - $15 for her leg wax plus $5 for an eyebrow tint.
Another woman, Claire Wike, is taking Beauty Co to a Disputes Tribunal sitting in Henderson tomorrow claiming an eyelash tint on March 26 burned her eyeballs.
The mother of two had to use drops, antibiotics and steroids after seeking treatment.
She said the pain took a month to clear completely. "It felt like glass grinding in my eyes."
Mrs Wike said she was left by herself, calling out for help, with the tint on for at least 15 minutes, despite staff telling her they would return in five minutes.
Ms Morris met Joseph Brooks - who said his management company was responsible for Hair Co and Beauty Co's staff - twice this week.
Mr Brooks admitted: "What's happened, it's my responsibility. The outcomes, technically I'm fully insured, but it's no good for me, for my 35 staff."
He said mishaps were extremely rare. He was not concerned about the Labour Department inspection. "It's normal for hair salons. They come in all the time."
Ministry of Economic Development records reveal Joseph Ronnie Brooks was declared bankrupt by creditor petition by the High Court at Christchurch on June 28, 2010. Yesterday, Mr Brooks denied being bankrupt.
John Campbell of Law Debt Collection said he first came into contact with Mr Brooks in 2008 and chased him for around $50,000 of debts for numerous creditors until his insolvency last year.
"There are large sums of money that have never been paid."
Mr Campbell said Mr Brooks and his business partners had set up salons in Henderson, Auckland City, Mangere, Manurewa, Manukau City, Hamilton and Christchurch.
He said many were sold on as managed businesses, some of which had proved to be bad investments.