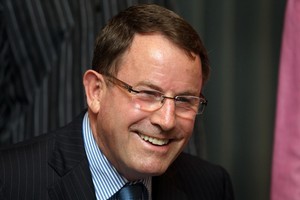 Former Auckland Mayor John Banks is poised to officially become Act's candidate for Epsom with his nomination thought to be be the only one received by Tuesday's deadline.
Sitting Epsom MP and recently deposed leader Rodney Hide confirmed he did not submit a nomination after current leader Don Brash made it clear he wanted Mr Banks, not Mr Hide.
The Act board, full of Hide loyalists, is scheduled to meet Mr Banks this weekend.
He is likely to be put through some paces to test his loyalty to a party he has only just joined, but he is expected to be confirmed as the candidate.
The prospect of Act winning Epsom with Mr Banks, instead of a possible loss with Mr Hide, will give Dr Brash the luxury of focusing on increasing Act's party vote across the country and not having to focus on Epsom.
Under the current rules of MMP, if a party wins one electorate seat it can claim all its party votes, even if falls below the 5 per cent threshold for parties that don't win an electorate seat.
In an electoral accommodation with Act, Prime Minister John Key has already said that National will campaign primarily for the party vote in Epsom - giving Act a free run to keep it.
National has not yet selected its candidate for Epsom but that is likely to happen next month.
Last election it was contested by Richard Worth who was given a winnable list position but he has since resigned from Parliament.
Former Auckland City Councillor Aaron Bhatnagar has recently resigned as National's electorate chairman because he will put his name forward for selection.
Another Auckland City Councillor, Paul Goldsmith, is another potential contender from the electorate.
But with the electoral accommodation, any National Epsom candidate would be looking to the vagaries of the party list for election to Parliament.