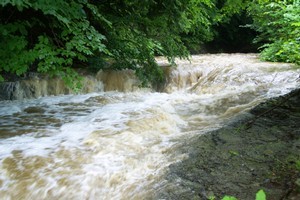 People living near rivers and streams in the Tasman District should be prepared for a rapid rise in water levels overnight as stormy weather continues, Civil Defence says.
The Aorere Valley in Golden Bay is expected to bear the brunt of the bad weather as a slow-moving front brings heavy rain and gales to the upper South Island.
Nelson Tasman Civil Defence manager Roger Ball said the Aorere River, which flooded in December last year after rising to a record eight metres, had this morning swollen rapidly to about 5m.
This level remained constant this afternoon, but there was a strong possibility it would reach 6m if the overnight rain eventuated.
Last year's floods damaged houses and cut off one farm in the Aorere Valley for weeks.
Some minor surface flooding was occurring around Ferntown in Golden Bay, and Sharlands Creek in Nelson City, Civil Defence said.
The MetService has forecast heavier falls to continue through the night and early morning.
Civil Defence said people close to rivers and streams should be prepared for a rapid rise in water levels.
Farmers should move stock to high ground where necessary and drivers should exercise caution as high winds were expected as part of the severe weather band, Civil Defence said.
- NZPA