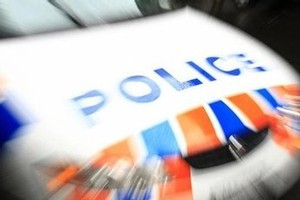 A molotov cocktail attack on a Wellington police station was part of a five hour overnight burglary and arson spree carried by three offenders, police say.
The Karori Police Station sustained minor fire damage when its windows were broken by molotov cocktails which were thrown inside this morning.

Police have linked the attack to the crime spree which began with residents reporting suspicious activity in the suburb of Melrose around 12:30am.
Acting Detective Senior Sergeant Steve Dunn said a driver fled in a stolen white Subaru vehicle before officers could track it down.
Police spotted the same car in Raroa Road in Kelburn, but the driver fled again.
The car was found burnt out in the nearby Highbury Cres around 3:20am.
Mr Dunn said a red Subaru was then stolen from Glenmore St in Kelburn.
"Shortly after, rocks were thrown at the Karori Community Policing Base, smashing windows.
Four Molotov cocktails were thrown into the building. All burnt out without causing any major damage."
As emergency service investigated that incident, a ram raid involving the stolen red Subaru was reported at a liquor store in Brooklyn, police said.
Three offenders fled in what police believe was the stolen car, but left another car - also described as a red Subaru - at the scene.
Mr Dunn said the offenders were again spotted near the scene of a burglary at Storage King on Hutt Road, and at the Tile Warehouse on Kaiwharawhara Road - where they smashed their way inside and stole a 42 inch television.
The stolen red Subaru was last seen driving dangerously in Khandallah around 5:30am, he said.
"We are yet to locate this stolen vehicle or the three offenders described by witnesses and want to hear from anyone who knows where it may be now."
Two of the offenders have been described by witnesses as slim male Europeans in their 20.
Both were wearing black hooded sweatshirts.
Mr Dunn said it was possible that the overnight crime spree was linked to a burglary in the early hours of Monday morning this week, at Wellington Mowers and Chainsaws in Karori, where offenders smashed their way inside, stealing three Husqvana trimmers and two Husqvana chainsaws.
The string of attacks in Wellington comes after Palmerston North community police officers were forced to work out of their cars yesterday because of an "ugly" arson attack on their Highbury offices.
The suspicious fire at the Highbury community policing centre was the second in the past six years, following a molotov cocktail attack that caused extensive damage to one room.