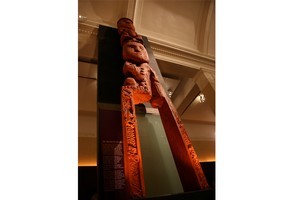 A high-powered powhiri today will welcome a collection of priceless Maori artefacts to Rotorua Museum of Art and History and mark the largest ever loan of taonga made by Auckland Museum.
The gathering of Te Arawa chiefs at Rotorua's Te Papa-i-Ouru Marae this morning will also welcome the return of two taonga which have sat in the British Museum for more than a century, along with another piece being loaned to the museum by Te Papa.
The artefacts have been loaned to Rotorua Museum as part of its five-year, $23 million makeover.
The two taonga from the UK - a 3 1/2m model war canoe and a greenstone adze - are believed to have never been exhibited since they were gifted to the Duke and Duchess of York during their visit to Rotorua in 1901.
Rotorua Museum director Greg McManus described the artefacts' trip back to New Zealand this week as a "very expensive operation".
"They have to be crated up properly and prepared for travel - but before they can even do that they have to go through a conservation process that was time consuming and quite expensive."
The two pieces were transported to Rotorua early this morning aboard a special truck designed for transporting precious cargo. However Mr McManus was more excited about the sacred objects arriving from Auckland Museum.
The most significant is the Pukaki - the largest single carving in existence and iconic for its placement on 20c coins - which will eventually greet visitors as they enter the museum.
Other artefacts include a gateway that was partially buried by the Tarawera eruption, a wooden carved house that originally sat on the shores of Lake Rotorua and the stern post from the war canoe Ngapuhi chief Hongi Hika used in his bloody invasion of Te Arawa territory in Rotorua in the 1820s.
Today's welcoming is one of the last milestones in the museum's Centennial Development before its grand public opening on August 20.
Mr McManus yesterday gave the Herald a sneak peek inside the new Don Stafford Wing, the third and final stage of the project.
The wing at the south end of the museum boast eight ground-floor galleries featuring the long-term exhibition Nga Pumanawa o Te Arawa - The Beating Hearts of Te Arawa, tracing the journey of the Arawa people from their origins in Hawaiiki to their descendants today.
Upstairs are two near-complete galleries to first feature a selection of works from the Rotorua Energy Charitable Trust collection and works by Charles Blomfield, famed for his oil paintings of the pink and white terraces.
Other priceless paintings in the museum, including a collection by renowned portrait artist Charles Frederick Goldie, will be protected from Rotorua's smelly hydrogen sulphide by a large unit pumping out fresh air eight times each hour.
An elevator large enough to fit a large car will be used to carry items from the second floor to the basement, which has also been fitted out with a new workshop, storage area and meeting rooms.
At the wing's rear exterior, resplendent in the same Elizabethan-style architecture which has made the museum one of the country's most photographed landmarks, contractors are completing a new verandah complete with a kauri stairway.
Mr McManus said the completion of the project would be the museum's most important milestone since the Rotorua Bath House's opening in May 1908.
"To be honest, it's a once in a career opportunity. It's been a privilege, and I'm really thrilled and overwhelmed that's it's about to be finished."
While Mr McManus doubted the redevelopment would impact New Zealand's tourism industry, he expected it would encourage tourists to stay longer in Rotorua.
"But more importantly for me, it's going to give those visitors the opportunity to learn more about where they are - and that Rotorua is not just about geysers and luge rides. There is a really rich history here."