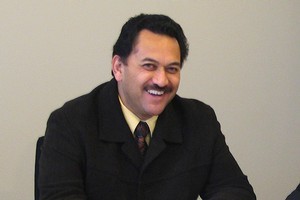 The husband of a woman killed with two of her friends while riding in the Waikato last year welcomes a series of coroner's inquests that will look at ways of reducing the cyclist road toll.
Waikato coroner Gordon Matenga will travel to four regions to hear evidence relating to eight cycling deaths - five of which happened in one week last year - starting in Palmerston North on July 21.
Mr Matenga said going to the regions would enable family members and witnesses to attend the inquests and allow for greater input from the cycling community.
"These deaths are an absolute tragedy and we must do everything we can to uncover any lessons or measures that can help avoid them in the future," he said.
The inquiry was welcomed by Roger Wolfe whose wife Kay died four days after a car ploughed into a group she was riding with on November 14, south of Morrinsville.
Because of the Christchurch earthquake Mr Wolfe delayed a planned cycle ride from Whangarei to Wellington highlighting the dangers cyclists faced.
He said he had not ridden his bicycle on the road since his wife, a 45-year-old mother of three, died and doubted he would again as he was on his own raising his children and the roads were "too dangerous".
"It comes down to the drivers of the cars that cause the accidents," said Mr Wolfe.
"My wife's one was different to the other ones because the car was coming towards her - therefore it was driver error.
"Drivers need to be aware of what's around them, people opening doors and drivers giving more room when they go past cyclists."
Mr Wolfe is yet to meet Kristy King, 24, the driver of the car that killed his wife and her friends Mark Andrew Ferguson, 46, and Wilhelm Muller, 71.
Ms King was driving to work last November when she lost control of the car on a bend.
Her car crossed the centre line and slid sideways for about 36m before it hit the cyclists, who were out on their usual Sunday morning ride.
In February she was sentenced to 300 hours' community service, disqualified from driving for 12 months, and ordered to pay $10,000 to each of the three victims' families.
Cycle Action Network deputy chairman Glen Koorey said it was likely cycling experts would attend all four inquests.
He said CAN was involved in safety education for cyclists and had held cyclist awareness workshops for bus and truck drivers.
Mr Koorey was hopeful that legislative change geared towards cyclist and motorist responsibility could result from the inquests.
Figures from the New Zealand Transport Agency show 11 cyclists have been killed in the last 12 months.
CYCLING FATALITIES
The deaths of eight cyclists killed on roads between November and April are the subject of four coroner's inquests starting on July 21.
Palmerston North
* Patricia Fraser: died November 13 near Sanson.
* Rex Dalzell: died January 7, 10km northeast of Palmerston North.
Waikato
* Mark Ferguson: died November 14, 12km south of Morrinsville.
* Wilhelm Muller: died November 14, as above.
* Kay Wolfe: died November 18 from injuries in the same accident.
Auckland
* Antony Chapman: died April 5, Whitford-Maraetai Rd.
* Jane Bishop: died November 17, Tamaki Drive.
Wellington
* Benjamin Lawless: died January 22, Karori, Wellington.
- additional reporting by NZPA