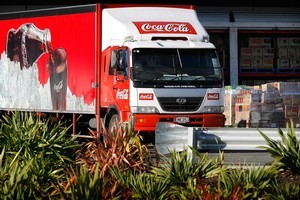 Coca-Cola Amatil has rewritten the way it recalls its products after it was pulled up by health authorities for the way it recalled its Pumped flavoured water that made 11 people sick over summer.
The 750ml water bottles remain off the shelves after problems with a sterilising process at the Putaruru factory saw white mould form in bottles of the lemon, mandarin and berry flavoured water.
A report by the Ministry of Agriculture and Forestry (MAF), released under the Official Information Act, showed Coca-Cola failed to inform the NZ Food Safety Authority (NZFSA) of the problem until two months after becoming aware of the problem.
Coca-Cola received the first complaints in December, when it recalled the water at a trade level. In January distribution was stopped.
However, in February the complaints were still coming in and Coca-Cola looked to recall more of the water.
NZFSA was notified on February 7 of the recall.
A total of 76 people complained about the water, including 11 who had become sick, some experiencing vomiting and diarrhoea for days.
NZFSA initially agreed on a trade level recall, rather than asking consumers to return the product, because the water was usually drunk soon after it was bought and people would not have drunk much of the water as it tasted horrible.
However, it was then decided that the scope of the recall was not enough and it was extended to more water produced at the factory.
Between August and February Coca-Cola sold more than 2.5 million Pumped bottles.
Following an investigation which concluded last month NZFSA identified a number of deficiencies in Coca-Cola's processes.
It said a marketing company, not Coca-Cola, alerted NZFSA to the trade recall and Coca-Cola had not notified its third party auditor it was recalling the product.
NZFSA was also unaware Coca-Cola's had changed its third party auditor.
MAF said Coca-Cola's recall plan was now being rewritten with its guidance.
Coca-Cola realised major improvements had to be made to its recall plan and was pro-active in getting to the source of complaints, MAF said.
However, MAF warned that although it was closing the file, if Coca-Cola breached the Food Act again it would consider legal action.
In a statement Coca-Cola apologised for taking Pumped off the shelves, especially to those who had bought the contaminated bottles.
"A very small percentage did not meet our usual stringent quality standards and over time deteriorated in the bottle, and in mid February, in consultation with MAF, we voluntarily withdrew the product from sale," said local managing director George Adams.
Coca-Cola acknowledged the report findings and would reintroduce the water only when it was convinced it met the highest quality standards, he said.
Coca-Cola had identified the source of the mould and the product was being reviewed, corporate affairs manager Suzy Clarkson told NZPA.
She would not comment on why Coca-Cola's recall processes were not up to scratch but acknowledged there were inconsistencies and they had been righted and the company now complied with MAF's guidelines.
"Even with the best intentions sometimes there are areas that need to be improved on and we have found that and identified it and have a robust system."
- NZPA