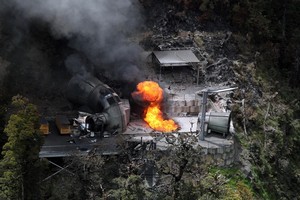 Families of Pike River miners will hit back today at claims it's too dangerous to recover the remains of their loved ones in a private meeting with officials.
The meeting between families, police, mine rescuers and receivers is set to take place at an undisclosed Christchurch location.
Spokesman for the families Bernie Monk said it was a "long overdue" chance for families to present expert advice on alternative ways to recover the 29 men still inside the Pike River mine.
They would attack official advice showing it is too dangerous to recover the men's bodies, he said.
"This is our first chance to sit around Roy's round table with them. Up to date they've had nothing to do with the families at all.
"The different excuses week after week after week we've been given. It's just weak. It's just pathetic.
"We've had nothing but let down after let down. We have had to pull strings to make this happen."
Mr Monk told TV3 Firstline families wanted more bore holes drilled and were looking at importing robots from the USA to investigate the mine - rather than the "breakdown ones" already in place.
He accused receivers of not being interested in recovering dead from the mine.
"Up to date they've had nothing to do with the families at all as to going in.
"Are the receivers getting in their experts to say it's too dangerous to go down so they can do the quick fire sale and sail away?"
Nicholas Davidson, a lawyer for the families, said they were looking at drilling another entrance into Pike River - either from the surface or around a rock fall obstructing the main tunnel.
He said they were concerned there was no plan to retrieve bodies despite receivers preparing to sell Pike River Coal's remaining assets.

Finding two suspected bodies in footage taken down a borehole had made the families even more determined to find a way into the mine, he said.
- with Newstalk ZB