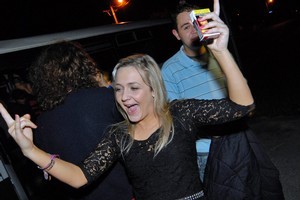 Police and liquor authorities are cracking down on boozy school after-ball parties, with new hardline plans to stop students from taking buses to secret locations.
The new approach comes after a number of after-balls turned sour last year and 15 others were cancelled because of concerns over drunken behaviour.
The after-balls - often all-you-can drink events for which tickets are sold - are usually held in warehouses.
Auckland police have written to principals asking them to tell parents and students that events where tickets are sold and alcohol is served to underage people are illegal.
"It would be appreciated if your schools can reiterate the very clear message ... that large, secret after-ball functions should not be held," says the letter, from Inspector Andrew Coster.
Police say after-ball organisers go to "significant lengths" to keep locations secret. Students are taken by bus to the party, then dropped at another location for their parents to pick them up.
Mr Coster said the risk of alcohol-fuelled violence was high. "The District Licensing Agency and police will take action to prevent such large gatherings from happening, even at the time of students boarding buses.
"It is important to reiterate that prosecutions may be brought against those who are responsible for the organisation of such functions, with large fines a possible consequence."
Principals are also trying to stop alcohol abuse by breathtesting students before they enter the ball.
Secondary Principals Association president Patrick Walsh said ball season was always a worrying time for principals and he praised the tough line by the police.
"[After-balls have] nothing to do with the schools but ... if something goes wrong, if there's an accident or a tragedy, it affects the school.
"We're pretty worried about getting a phone call from a police officer the next morning saying, 'Your students have been in an accident'."
Mr Walsh, head of John Paul College in Rotorua, said some schools, including his, had a police officer with a breath-analyser at the entrance to the ball and if a student turns up drunk, he or she is turned away.
The letter from police and the Auckland District Licensing Agency talks about the dangers and potential consequences of an after-ball.
"Large gatherings too often result in significant disorder, leading to immense pressure on policing resources as a result of alcohol-related offending including violence, drink driving, severe intoxication requiring medical intervention and other related alcohol harms," it says.
"Alcohol, testosterone and youth are a potent and dangerous combination - especially when young men are in the company of young ladies."
Because of the covert and illegal nature of the parties, police say party organisers are reluctant to call emergency services if things go wrong.
Last year, they raided a number of parties and carted off alcohol. As many as 15 after-balls, some planned by parents, were then cancelled.
The police guidelines also warn that a signed permission slip from a parent, allowing their child to drink alcohol, has no legal standing.
Last year, Rangitoto College in Mairangi Bay cancelled its ball plans because of an after-ball event organised in 2009. Parents who organised it promised to cancel it when senior staff found out, but it still went ahead.
This year, Rangitoto will allow separate Year 12 and Year 13 balls, but has sent a nine-page newsletter, including the police letter, to parents.
The college has warned that if an after-ball occurs, there might never be a school ball again.
Zeesh Event Management, which worked with parent committees organising after-balls in the past, says it stopped after the police made their position clear last year.
THE LAW
* Any events for which tickets are sold are not private functions and therefore have to adhere to the provisions of the Sale of Liquor Act.
* It is illegal to supply anyone under the age of 18 years with alcohol - even with a signed permission slip from a parent - if the parent is not in attendance.