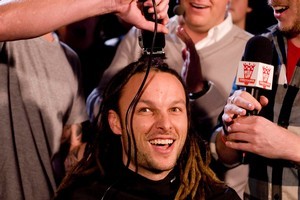 Ben Boyce thinks he will start to be known as "the artist formerly known as the guy with the dreads" after he shaved his signature locks to raise money for Christchurch.
"It's a bit surreal after having the same hairstyle for eight years," he said.
The TV comedian is well known for his dreadlocks but had his head shaved during the 12-hour Rise Up Christchurch telethon which was held three months after February's devastating earthquake.
By the time it finished at 9pm, the telethon raised $2.56 million after Fonterra donated $1m.
The event was centred in Christchurch, but also had events staged at Te Papa in Wellington and at the Trusts Stadium in Auckland, where Boyce got his haircut.
Rachel Hunter, Mike McRoberts and Brooke Howard-Smith were among many well-known names who hosted the show, which was interspersed with live crosses to centres in London, Los Angeles and Sydney.
Expat New Zealand actors Martin Henderson and Anna Paquin organised a hangi in Los Angeles.
Boyce's challenge raised $2000 but he said he was slightly peer-pressured into the stunt after being dared on air by The Rock radio station.
The comedian said the new cut would take some getting used to and he barely recognised himself when he looked in the mirror.
Several international stars gave items that were auctioned off.
Lady Gaga's limited edition pair of 14-inch-high Gucci shoes fetched $4300, while the sneakers Usher wore on his OMG tour went for $925.
Katy Perry also donated a signed guitar that went for $5000 and a signed bag containing a bottle of her perfume Purr.
Other local famous faces who lent support to the event included Robyn Malcolm, comedian Mike King, Benji Marshall and Neil Finn.
Sir Ian McKellen appeared at Te Papa with a copy of Tolkien's The Hobbit, signed by the film's cast, which was auctioned online.
Shane Cameron and The Rock's Roger Farrelly put their dancing skills to the test in a competition hosted by Dancing with the Stars co-host Candy Lane.