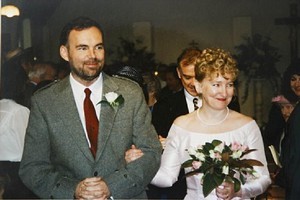 The New Zealand wife of a murderer who tried repeatedly to kill her says the betrayal and heartlessness of her husband "was just too hard to take in".
Felicity Drumm called Malcolm Webster - described by many as a polite charmer - repulsive for his many attempts to drug and kill her. They began as soon as they were married.
Her account in the Mail on Sunday newspaper comes after Webster was convicted of murder, attempted murder, theft and fraud more than 17 years after killing his first wife.
Felicity told the British paper how Webster experimented with sedatives that left her unconscious for 36 hours and poisoned her food while she was pregnant with their son.
"He is a psychopath and I feel extremely lucky to be alive," said Felicity, 50, who still lives in Auckland.
"I really thought he loved me, but he had a completely different agenda. When I first discovered the truth, I was bewildered by the enormity of someone you've loved and made yourself vulnerable to acting in this way.
"His betrayal and heartlessness was just too hard to take in."
As well as drugging her, Felicity said Webster also attempted to get rid of her by staging a series of bizarre house fires and suspicious car accidents. He had cheated her out of her life savings and left her in financial ruin, while secretly taking out life insurance in her name.
When Felicity first met Webster in Riyadh, Saudi Arabia, in May 1996, he had already murdered his first wife Claire Morris. In 1994 he had drugged his new bride in Aberdeenshire and deliberately crashed their car before setting fire to it.
He was not suspected of the crime and cashed in her life insurance policy, squandering the cash on a yacht and Range Rover.
Felicity, then an oncology nurse at the King Fahd Hospital, was taken in by Webster's story that his beloved wife had suffered a tragic death.
The couple married in New Zealand in April 1997 and travelled through the North Island for their honeymoon.
Felicity believes he began drugging her almost immediately - after bringing her a cup of tea in bed.
"It was 36 hours before I woke up again. I had no explanation for it," she said.
The couple set up home in Scotland but a fire broke out in the cottage, causing extensive damage. It would be the first of many blazes started by Webster over the next two years at properties they were staying in.
Even when Felicity became pregnant, the drugging did not stop. "I was eating food that tasted acrid and bitter. If I continued to eat I felt drunk - I would be staggering and needed help to walk," she told the Mail on Sunday.
But Felicity believes Webster realised the baby could prove useful to him. "I had post-natal depression for a short time after our baby was born in May 1998. Malcolm liked to exaggerate my condition - probably setting the scene for if I couldn't cope and ended it all."
They finally moved to New Zealand in late 1998 and Felicity, who had substantial savings, was persuaded by Webster to add his name to her bank account.
Then in February 1999 the couple were involved in a motorway crash after Webster, who was driving, insisted there was something wrong with the car's steering. They ended up in a ditch but were uninjured.
A week later the couple took a trip to a rural area north of Auckland.
Felicity was driving, and remembers arguing with Webster about directions to a picnic spot and then him passing her a bottle of water.
"My next memory is waking up in the forest, in the passenger seat of the car - not the driver's seat - with the phone ringing beside me."
She believes that call, from her father, saved her life.
Felicity now believes Webster had planned to douse the car in petrol and set it alight in a carbon copy of his first murder. Her death would allow him to benefit from nine insurance policies that had been taken out on her life without her knowledge.
"That moment in the forest was meant to be my last. He was furious when he came back. He asked: "What the hell are you doing awake?"
Webster then vanished when Felicity's father revealed her account had been drained.
She reported Webster to the police but he returned to Britain before he could be investigated.
It was only when Felicity's sister Jane contacted British police to report her suspicions that the case was reopened in 2008 and prosecutors re-examined the death of Webster's first wife.
Felicity said: "He is repulsive and deserves everything he has coming to him."