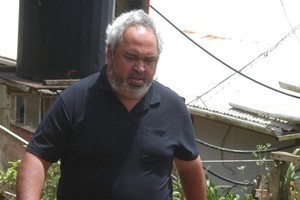 A Pacific mercy mission to save a seriously ill Pitcairn Islander's life has ended in vain.
Terry Young was among a group of Pitcairn men who in 2004 were found guilty of raping young girls living on the island. Those found guilty included the then mayor, Steve Christian.
Mr Young, 53, began experiencing intense pains on Thursday at his Pitcairn Island home and he was taken to a local medical centre, where he was tentatively diagnosed as having acute appendicitis.
A yacht travelling from Chile to Tasmania responded to distress calls from the island on Friday evening.
It took him on board and set sail for Mangareva in the Gambier Islands, 498km west of Pitcairn, where he was to have been airlifted to Tahiti. But he died yesterday en route.
Herbert Ford of the Pitcairn Islands Centre in the United States said the cause of death was unclear.
"But I would be almost willing to bet that he had a rupture of the appendix."
Mr Ford said it was likely the body would be held at Mangareva and be returned to Pitcairn for burial next week.
He said he last visited Young, whom he described as quiet and kind, 2 years ago when he was nearing the end of his prison sentence.
"He was a large fellow but polite beyond all measure so it seemed so incongruous that he was there in the jail."
Mr Ford said Young rarely discussed the reasons for his imprisonment but would often ask him if there was anything he as an ordained Seventh-Day Adventist minister could do for him.
"They thought that a lot of what had happened to them was wrong but it seemed like there was no way they could overcome it," he said.
"The guards said they were the most model prisoners they had ever had.
"They were out doing public works projects and they didn't have contact with the rest of the population other than visiting hours.
"Yet they did an awful lot to improve the island's infrastructure while they were incarcerated."
Young, who was not married and did not have children, was recently paroled.
The Herald understands his brother Brian and sister Pauline still live on Pitcairn Island. Brian Young did not return Herald emails yesterday.
A court on the tiny Pacific island heard in 2004 how Terry Young raped a girl every week for years from the time she was 12, assaulting her every time she went out to collect firewood.
Young and the other accused men later applied for a stay of proceedings, saying they did not know their actions were illegal or that they could be prosecuted under British law.
They said there had been an unfair "systemic bias" because a criminal justice system had to be created to prosecute them and the case should be thrown out because of delays.
He was convicted of one rape and six indecent assaults and sent to prison for five years.
By 2010, all the men had served their sentences or been granted home detention.