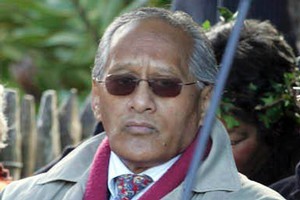 One of Maoridom's senior statesmen, Timi te Heuheu, has accepted that he is dying but says he is far more interested in living.
The Ngati Tuwharetoa leader is the brother of paramount chief Tumu te Heuheu and husband of retiring Cabinet minister Georgina te Heuheu.
A dapper and hugely congenial figure, Mr te Heuheu is known to all the key players in iwi leadership circles.
The 67-year-old, who is his brother's right-hand man, is an influential mover, a tribal diplomat whose job is as a link between Maori, politicians and business.
Just days ago, he was at a Tuwharetoa Maori Trust Board meeting in Turangi, making decisions about whether to attend today's Kingitanga poukai in Rotorua and Sir Tamati Reedy's investiture on Wednesday in Ruatoria.
Last weekend, the tribe hosted a luncheon for Lieutenant General Sir Jerry Mataparae to thank him for his work as head of the Defence Force.
That was Mr te Heuheu trying to ease up on his workload.
"I'm bloody hopeless actually," he joked.
Mr te Heuheu is understood to have terminal cancer, but he would not confirm the exact nature of his condition.
"There is medication, things that are designed to make things comfortable for you. So in terms of being fair about what I'm describing ... I've had a pretty good life. There's some slowing down required.
"My emphasis is every day is a treasured day. I've always held that, and I like to meet people and make sure every day is a happy day. That doesn't change. Don't be shy about asking that [terminal] question. If that's what it is, then that's a fact of life, I don't ignore it but there are better things for me to be spending my time on, and it is around the principle that every day is a treasured day."
He said Mrs te Heuheu's departure from Parliament at this year's election had nothing to do with his health. Instead, after 15 years, she had had a "good round" in politics but he was not sure if there were still challenges for her.
"It would be helpful if they found some work of value for her to see her through another few years. Maybe something that says, 'Georgina, we want you to look after the Maori statistics on our children. You're it.' I don't know whether that's fair or not but everybody seems to be dodging it and it's looking us right in the face."
For now, Mr te Heuheu will continue to work with the Maori boards of the Waikato District Health Board and Waikato University, groups which have large iwi participation and are close to his heart.
"If I do have to give those away, I want [Ngati Tuwharetoa] to commit, because they are of huge importance to the wider iwi picture."