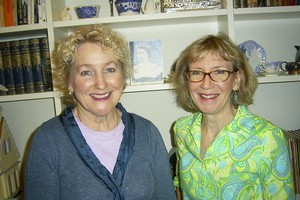 Aucklander Felicity Drumm has broken her silence describing years of abuse at the hands of her husband, convicted this week of trying to kill her 12 years ago.
On Friday (NZT), a jury at the Glasgow High Court also found Malcolm Webster, 52, guilty of murdering his first wife, Claire Morris, in Aberdeenshire in 1994 to claim $400,000 in insurance. He drugged Ms Morris, crashed their car then set it alight with her inside.
"He is a psychopath and I feel extremely lucky to be alive," Ms Drumm, 50, told British newspaper the Mail on Sunday in speaking about her ordeal for the first time since the verdict on Friday.
Her husband had drugged her for years, made several attempts against her life and had secretly insured her life for $1.53 million, Ms Drumm said.
"I really thought he loved me, but he had a completely different agenda. When I first discovered the truth, I was bewildered by the enormity of someone you've loved and made yourself vulnerable to acting in this way.
His betrayal and heartlessness was just too hard to take in."
The couple met in 1996. He was attentive and entertaining and they married the following year, Ms Drumm said.
She believed the drugging started during their honeymoon when he gave her a cup of tea.
"It was 36 hours before I woke up again. I had no explanation for it.
"Malcolm is all about control and I think he took the opportunity when there were no spectators around to see how much he could give me and the effect it would have."
The drugging continued through her pregnancy with their son, now 13, she said.
"I was eating food that tasted acrid and bitter. If I continued to eat I felt drunk - I would be staggering and needed help to walk."
Webster had also been setting fires at various properties they lived and at her parents' house.
She believed he deliberately crashed their car into a ditch in 1999. Neither was injured.
"I know to some people this all sounds ridiculous now. They are probably wondering why alarm bells weren't ringing. But Malcolm is very plausible."
Ms Drumm said she was under huge stress by the time of the crash.
"He had been drugging me on and off and my life was in turmoil. And I could never have imagined what lay ahead."
A week later Webster drugged her in a rural area north of Auckland where the couple were taking a trip.
She remembered driving the car, drinking from a bottle of water, then waking up in the passenger seat in the forest when her phone rang - which she believed saved her life.
"That moment in the forest was meant to be my last. He was furious when he came back. He asked: 'What the hell are you doing awake?"'
Webster disappeared after the incident with all of her savings.
She discovered nine insurance policies taken out against her life and emails outlining his plan to move back to Britain with their son.
Ms Drumm reported him to New Zealand police, but he had returned to Britain before being investigated and the case was not reopened until 2008 when her sister contacted British police directly.
The jury also found Webster found guilty of bigamously trying to marry a third woman.
He was due to be sentenced in July.
"He is repulsive and deserves everything he has coming to him," Ms Drumm said.
- NZPA