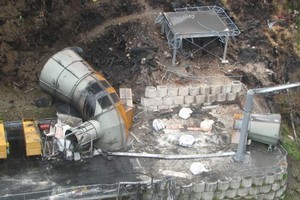 Council of Trade Unions head Helen Kelly has accused the National government of trying to instil an attitude in which employers should be treated with deference and workers simply grateful to have jobs.
Speaking to the Labour Party Congress this morning, she cited the Pike River mine disaster as the most stark example of this.
Ms Kelly said in the immediate aftermath of the blast in the mine, anybody who dared to challenge the mining company was accused of insensitivity.
"The company was portrayed, most strongly after the blast, as providing a great service to the coast, providing jobs where jobs were much needed."
She said CEO Peter Whittall was treated as a hero and anybody who asked him hard questions about mine safety was scorned. She said the company was actually owned by multinationals who saw an opportunity to make money through mining.
"Whether they did this on the cheap and spent insufficient money on safety is a question on everyone's lips and a matter for the inquiry."
However, she said the shareholders would walk away "scot-free" without having to account for the deaths and debt.
She said the union fight over conditions on the Hobbit filming was another example of such an approach.
Ms Kelly also proposed a new form of collective bargaining which would see collective agreements forged in large unionised workplaces extended to small workplaces in the same industry where the workforce might not be able to form their own agreement.
Ms Kelly indicated that the CTU would effectively drop its usual apolitical stance to campaign for a Labour government in this year's election.
She said CTU was not a political party and members of the unions under its umbrella did not all vote the same.
"But union members and their families know we can't go on like this. We need a change."
She said Labour had a strong record in workers' rights and a future Labour-led government was needed to ensure investment in skills and wage increases.
She also asked Labour to adopt the CTU's new proposal to make lift the number of workers covered by collective agreements.
She said currently only 9 per cent of workers in the private sector had access to a collective agreement because the law made it too difficult to negotiate. Under the new approach, employers could either set up a collective agreement with their own workers' union or accept one based on industry standards at other workplaces.
"For example, the National Distribution Union would bargain and achieve collective agreements with the major food retail outlets (say Foodstuffs and Progressives and others) and the standards from those agreements would be extended to the Four Square in Kaitaia."
"Any worker could walk into a workplace and find a collective agreement reflecting genuine bargaining outcomes between unions and employers in place and with a sustainable form of union membership also available to them should they choose to join a union."
Ms Kelly also told Labour its first steps in any future government should be to lift the minimum wage to $15, scrap the 90-Days probation period set up by National, halt any state asset sales and stop moves to privatise ACC.