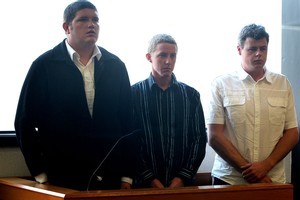 Three young men branded "inhuman cowards" after the fatal shooting of Lower Hutt schoolteacher Rosemary Ives say they did everything they could to help her before she died.
Kyle Dean, 18, Ashley Wolland and Brad Bennet, both 27, were with their mate Andrew Mears when he accidentally shot and killed Miss Ives after mistaking her for a deer at the Kaimanawa Forest Park campground, near Turangi in October last year.
Mears, 23, was jailed for three years after admitting Ms Ives' manslaughter. His three companions were each fined $2500 this week for breaching their hunting permits by hunting after dark and on Conservation Department land.
Miss Ives' mother, Margaret McFarlane, told the court the three men ignored pleas from Miss Ives' partner to call an ambulance and instead drove off to their own campsite.
She said they were "inhuman cowards" and part of a "macho, arrogant shooting fraternity" that paid little heed to anyone else's safety or rights.
Wolland and Dean told the Waikato Times they were devastated by Mrs McFarlane's comments.
"Now people think we are just ruthless animals, but we're not," Wolland said.
He said that as soon as Miss Ives was shot, they all tried to call 111 from their cellphones. But lack of coverage meant they could not get through.
Unable to get to or even properly see Miss Ives, who was about seven metres away up a steep bank, they yelled out that they were going back to their camp - three minutes' drive away - for help.
Mears grabbed his GPS and put an emergency call out to get a helicopter on the way. He also called the police.
While he was doing that, Dean alerted others in the camp to what had happened. He found a nurse and sent her immediately, with his first-aid kit, to help.
He and Mears then waited at the campsite to direct the helicopter when it arrived.
Wolland and Bennet drove their car to meet the police at a nearby bridge to direct them to the site.
"There was nothing more we could do - they (police) told us to wait at the camp. We just sat there, no talking - just stunned."
A few hours later the police arrived at their camp to tell them Miss Ives had died.
"We handed the guns over - we didn't want them."
The trio said they regretted what happened that night, but said they wanted people to know "we are not just hooligans in the bush, like we've been labelled".
- NZPA