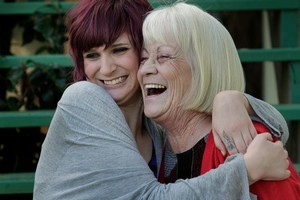 About 400 toddlers in state care will get 20 hours of free early childhood education from the age of 18 months - a year and a half earlier than other children.
The move will catapult toddlers in state care from being ineligible for normal childcare subsidies to getting ahead of the queue.
West Auckland caregivers Glenda Baker and Marie Horan said they had been fighting for years to get the children in their care into early childhood services, and it "very rarely" happened.
"When they're in care we don't get the childcare subsidies. Only their guardians can get them," they said. "So this is good. They will get to socialise."
The move, costing $2.9 million a year, was one of four Budget initiatives unveiled by Social Development Minister Paula Bennett yesterday to boost services for the 2200 children taken into state care each year because of their parents' abuse or neglect.
The package also includes:
*Full health and education assessments for all children when they come into care ($3.8 million).
*Mental health services for children in care ($3.6 million).
*Parenting courses run by Parents Inc for caregivers ($600,000).
Ms Bennett said 41 per cent of children going into state care had mental health issues and 65 per cent had severe behavioural issues, but until now only 7 per cent got specialist help.
"Ministers before me have been fighting that one for many, many years. I started to fight that one [with the Health Ministry]. Then I decided that rather than fit them into existing boxes we'd build our own box.
"On average we see that costing about $14,000 for each child. That money means we can directly purchase what that child needs."
Danielle Vivian, a 19-year-old North Shore woman who was placed in her grandmother's care by Child, Youth and Family when she was 6, said it was "very hard" to get access to mental health services.
"A lot of the problems stem from mental health issues," she said. "Once you have a mental health issue sorted, you can sort out the other issues a lot easier."
Her grandmother Diane Vivian, who founded the Grandparents Raising Grandchildren group which now represents 4700 families, said many children came into care with "huge behavioural problems" but mental health services for them were "sadly lacking".
"So these are baby steps but they are going in the right direction."
Ms Bennett said her ministry got no extra money in the Budget but she found money for children in care by tightening rules for disability allowances.
The ministry will stop funding medicines that are not subsidised by Pharmac from July 2012 and is considering axeing allowances for "unproven" alternative treatments.