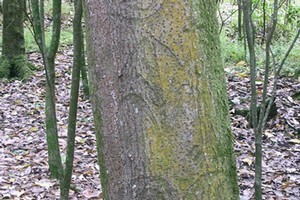 Moriori working to save internationally significant and rare tree carvings on the Chatham Islands are horrified one of the largest and best-known carvings has been vandalised.
A slasher or machete was used to attack the eyes and head of a 2m-tall human figure carved into a kopi tree in the Hapupu National Historic Reserve, administered by the Department of Conservation.
The reserve contains hundreds of carvings, known as rakau momori, thought to have been carved 200-350 years ago and considered to be of international archaeological significance.
Hokotehi Moriori Trust chairman Maui Solomon discovered the damage last week when working in the reserve with another person. Yesterday, he said Moriori and most Chatham Islanders were appalled at the "act of cultural desecration".
"It must have been a local. It happened at night and the person knew exactly ... what they were doing."
Police, DoC and the trust were investigating and the trust had offered a $5000 reward for information leading to an arrest, Mr Solomon said.
There were thousands of tree carvings on the Chathams but they are rapidly being lost as the trees reach the end of their lives and die.
Following discussions between the trust, DoC, Te Papa, the Historic Places Trust and University of Otago archaeologists, the trust began a project in March to fell seven carved trees in the Hapupu reserve which were already dead or expected to die within six months.
The carved sections will be frozen for seven days at the local meat-processing works to kill any insects, slowly defrosted and air-dried for six months before the carvings are cleaned and repaired and attached to acid-free foam.
How and where the preserved carvings would be displayed was "still unfolding", Mr Solomon said, but it was hoped a wharetaonga - treasure house - would be built at the Kopinga Marae on the Chathams.
He said he did not believe the vandalism was linked to the project.
"This is some sort of sick message to Moriori," he said. "There are one or two people on this island who don't like the fact Moriori have virtually risen from the ashes over the past 25 to 30 years and are doing good things."
Historic Places Trust general manager Ann Neill said the carvings were protected under the Historic Places Act (1993), with fines of up to $40,000 for proven damage.
- Otago Daily Times, NZPA