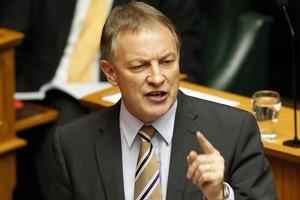 Labour leader Phil Goff says middle-income earners are the victims of National's Budget and are becoming "the new working poor".
In his speech in response to the Budget, Mr Goff said those on middle incomes would unfairly bear the brunt of the cuts to Working for Families and KiwiSaver.
"While top income earners have got richer over the last few years, those on middle incomes have become the new working poor, and low-income people struggle to simply survive."
He said he did not begrudge high earners their money. "But like anyone else, they need to share in the sacrifices that have to be made at this time - not push it on to the people who can afford it the least."
National was refusing to change its tax cuts, but was trimming from middle New Zealand and breaking its election promises in the process.
"They promised they would not cut KiwiSaver. They did. They promised they would not touch Working for Families. They have. They promised there would be no changes to student loans. There are. And what about the biggest promise of all - not to increase GST? Well we know what happened there."
He said the Budget should have included monetary and taxation policies to promote growth and significant investment in trade training. It should have promoted saving rather than eroding confidence in KiwiSaver.
Prime Minister John Key responded by saying Labour's policies were based on Bernie Madoff.
"That was not an alternative Budget. It was the Labour Party Ponzi scheme to spend more money, borrow it from someone else, close one's eyes and hope and, eventually, leave it to a National Government to tidy up.
"That strategy might go down well in Greece but in Grey Lynn they want real answers and this Government is delivering them."
He said Labour left government with a decade of deficits ahead, high interest rates and inflation of 5 per cent. It now had little to offer beyond higher taxes and a probable capital gains tax.
Mr Goff was now the MP for "Fantasy Island" while National was in "Reality Island". He also took aim at Labour's recent attacks on spending by National.
"Yes, Labour has a plan. It is 'don't paint Premier House, sack a DPS agent, sell the Beamers that Helen Clark bought and, by the way, borrow $45 billion more'."
In a rowdy speech he claimed Labour were "muppets" and "Hobbit haters" who supported Australian-based unions over the creation of 3000 jobs the making of The Hobbit promised. He also said National delivered broadband while Labour would leave everyone with just a Biro.
Green co-leader Russel Norman said despite Mr Key's theatrics, National's Budget was fiscally irresponsible.
"How is it that KiwiSaver and Working for Families, which support ordinary New Zealanders, get cut because they are deemed 'nice to haves' but massive tax cuts for bank CEOs are essential and must stay in place?"
Neither National nor Labour had the courage to do what was needed, including capital gains tax, a charge for commercial water use, and a temporary levy for the Christchurch earthquake," Dr Norman said.
"Putting the Government's historic deficit on the nation's credit card is the wrong thing to do ... Broadening our tax base to save services, cut the deficit and transform the economy is a genuine alternative to National's cut and borrow and to Labour's borrow and borrow."
Dr Norman said Labour was critical of the cuts and he challenged it to say where it would get the money from instead.