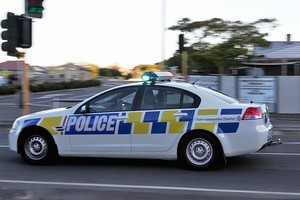 A toddler and a police officer have been hurt after a man fleeing police crashed into a patrol car in Hamilton today.
Police said they were amazed and relieved the girl, thought to be about two, was not badly hurt. She was a front seat passenger.
The man was arrested moments after he tried to clamber over her to get out of his badly damaged car.
Police pulled the car over during a routine stop in Seddon Rd about 11.30am.
"As the constable got out of his patrol car the offender accelerated away," Inspector Karen Henrikson, from Hamilton police, said.
The officer reported the fleeing car and followed it, but lost sight of it until he saw it coming towards him in Rimu St.
Moments earlier the car had failed to negotiate a bend and left the road, hitting a signpost, a tree, a traffic island and a power pole. It was badly damaged but the driver sped back in the direction he had come from, into the path of the patrol car, Ms Henrikson said.
Witnesses told police the man, who was not hurt, tried to climb over the child in the front seat to escape.
He was taken to the Hamilton police station while the injured police officer and child got medical treatment.
"Given the events described by the witnesses, we are very thankful the girl escaped serious injury and no other members of the public were involved," said Ms Henrikson.
Numerous charges were expected to be laid against the driver
- NZPA