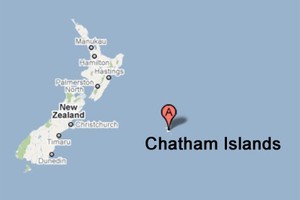 Ancient Moriori tree carvings in a historic reserve on the Chatham Islands have been slashed, apparently with a machete, in "some kind of sick message to Moriori".
Police, the Department of Conservation (DOC) and the Hokotehi Moriori Trust are investigating the vandalism, which saw one engraving, or rakau momori, at the Hapupu National Historic Reserve extensively damaged overnight on May 11.
Trust chairwoman Shirley King said that she and all Moriori were "stunned, shocked and deeply saddened" by the "mindless act of cultural vandalism" against the carvings, which are between 200 and 500 years old.
Fresh slasher marks consistent with someone hacking at the tree with a machete were first noticed by trust members were working in the reserve.
It was believed the attack was culturally motivated.
The eyes and head of the carved human tree figure appeared to have been deliberately targeted "as some kind of sick message to Moriori", Mrs King said.
The trust board had a suspect, but did not yet have hard proof, she told Spasifikmag.com.
A substantial reward would be offered for information leading to a successful prosecution.
DOC area manager Ken Hunt said the damage was a matter of national and international significance given that the tree carvings were within one of two National Historic Reserves in New Zealand.
"I was shocked when I first saw the damage; I just cannot imagine how anyone could deliberately deface such an iconic symbol of the Chathams.
"These carvings are not only taonga to Moriori but also to the Chatham Islands as well as the rest of New Zealand."
New Zealand Historic Places Trust general manager Ann Neill said the carvings were protected under the Historic Places Act (1993) as an archaeological site, with fines of up to $40,000 for proven damage.
She urged anyone with information on the attack to contact police.
"Ultimately it comes down to the local community identifying who is responsible. It just seems such a senseless, mindless thing to do."Two years ago another ancient Moriori waahi tapu site, known as Nunuku's cave, was defaced.
- NZPA