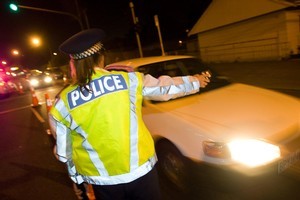 Police are applauding the actions of a driver who helped police apprehend a heavily drunk female driver near Tauranga yesterday.
Officers received information from a member of the public who witnessed a driver weaving across the State Highway 29 on the Kaimai Ranges.
The driver was also passing on no-passing lanes.
Shortly after this information was passed to patrol staff, the vehicle overtook a marked police patrol vehicle on State Highway 29 and the driver was stopped a short distance further on.
The driver was described by the police as "grossly intoxicated".
Senior Sergeant Ian Campion said the driver, a 52-year-old woman, under-went breath testing returning a reading of over 1100 micrograms of alcohol per litre of breath, almost three times over the legal adult limit.
The driver went on to request a blood sample and later passed out at the police station.
She was suspended from driving and police are awaiting the analysis of the blood sample.
Mr Campion said the reporting of the driver to police is likely to have prevented injury, or even worse, to other innocent road users and the informant is to be commended.
Mr Campion was appalled by the high alcohol level and it is one of the highest readings over recent times in the Western Bay of Plenty.
"Despite widespread media coverage and consistent targeting of drunk and drugged drivers the message was still not sinking in with some motorists.
"This follows a total of 30 drink and one drugged driver facing prosecution after last week's alcohol operation."
Mr Campion said it simply defies logic that someone would get behind the wheel of a vehicle when they are clearly intoxicated.