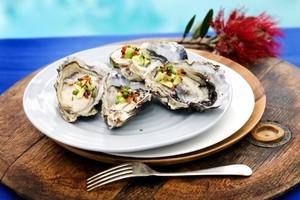 Bluff oyster lovers may be in for a bumper season after a parasite plaguing the delicacy for nearly 50 years dropped to "relatively low levels".
The bonamia parasite has infected Bluff oysters since 1963, significantly reducing catch levels for at least 25 years.
"The bonamia parasite was at a relatively low level last summer. At this low level of mortality, the oyster fishery is continuing to rebuild," National Institute Water and Atmospheric Research (Niwa) scientist Keith Michael said today.
Oyster enthusiasts plan to celebrate the successful season at the Bluff Oyster and Food Festival next week.
"There will be real sense of celebration at this event, not only because the fishery is doing well, but also because of the heightened collaboration between fishery participants and strategic research," Mr Michael said.
"There is very good participation and management from the bottom up, and from all the groups: recreational fishers, customary fishers, the Ministry of Fisheries, and the oyster skippers and industry representatives.
"They meet on a regular basis to assess how the fishery is doing and to exchange information."
The oyster season runs until the end of August.
- NZPA