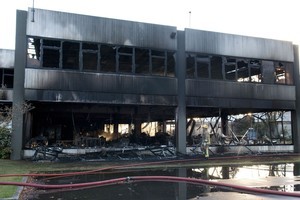 An investigation is underway into the cause of a blaze at a quake-damaged industrial complex in Christchurch which left three firefighters injured.
Fire Service assistant national commander Dan Coward said the trio fell three or four metres from the second floor of a two-storey building occupied by Trimble Navigation on Birmingham Drive in suburban Middleton.
They were taken to hospital with moderate injuries but two had since been discharged.
Forty firefighters in 10 fire trucks contained the blaze after several hours and were now working to dampen any lingering hot spots.
Mr Coward said the building may have been damaged in February 22`s 6.3 magnitude earthquake and fire safety officers were investigating whether the trio fell through a hole or the floor collapsed.
"At this stage there are some indications that there has been damage (in the quake) and that was based on visual signs of areas being cordoned off by tape but that could also suggest other things for the building.
"As part of the investigation process...we will look into that," he told Radio New Zealand.
"We wanted to ensure we stopped the fire spreading from one building to the next and it was during that investigation that three firefighters fell from the second floor to the first and sustained some injuries."
The cause of the fire had not yet been established and it was too early to say if it was suspicious, Mr Coward said.
Trimble Navigation product manager Gary Chisholm told NZPA the building suffered only minor damage in the quake.
"Some ceiling panels fell, I wouldn't call that extensive damage at all," he said.
"We were renewing them and repainting the building."
The building -- which housed the company's information technology, land surveying and geographical staff -- was now "charred, burnt and gutted", Mr Chisholm said.
"We're a fairly resilient business, we're part of a large global organisation so we're familiar with disaster recovery. We don't think it'll have a very big impact on our business.
"We all feel very sorry for what has happened here. A lot of the staff member have maybe lost their homes (in the quake), now they've lost their office.
"They haven't lost their jobs, it's just another shock."
Birmingham Drive which was closed at the height of the blaze had since reopened.
- NZPA