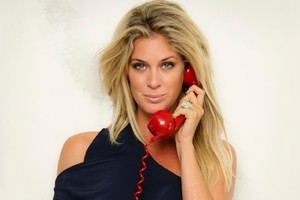 Former supermodel Rachel Hunter has urged everyone to support the Christchurch telethon on Sunday and get some buzz going for the event.
"I just got here and realised there wasn't the momentum I thought there would be, because back in the day when we did telethon there was all this excitement," Hunter - who come home for the event - told the Herald yesterday.
"We are all New Zealanders, and this is our country ... we all need to be there and pull it together. I just want [the telethon] to have as much success and support that it can."
Hunter will be one of the celebrities involved in the Rise Up Christchurch - Te Kotahitanga telethon, which will be broadcast on Maori TV from 9am to 9pm this Sunday.
She said it would be difficult to hear first-hand from people about the devastation they and their city suffered, but it was crucial attention was kept on their plight.
"It's so typical, at first when it happens it's all over the news. But three months later there's still so much pain and suffering."
Organiser Brooke Howard-Smith said the telethon's momentum was building rapidly, but there was still work to do to ensure people tuned in on Sunday.
"We've got this incredible event, but it will all be for nought if no one sees it ... we need to make sure that every single punter out there knows that it's on."
The original intention was to broadcast the fundraiser on all the main networks, but TVNZ and TV3 ruled that out as not commercially viable.
However, both networks have agreed to let stars such as Mike McRoberts and Pippa Wetzell participate, which Howard-Smith said was a first for the industry.
The telethon will be broadcast from Christchurch, Auckland and Wellington, and live crosses will be made to regional centres as well as events in London, Sydney, Los Angeles, and Japan.
Auckland will feature live music and a celebrity obstacle course at the Trusts Stadium Arena, and a celebrity fashion show will be among highlights of the Christchurch event.
In Los Angeles, Kiwi actor Martin Henderson has organised a hangi which will be attended by Anna Paquin and other stars.
Howard-Smith said Henderson's commitment to the event epitomised the "empty your contact book" way it had come together.
"He was initially coming down, but then he got so involved and passionate in rallying the Americans to get in behind this."
Prince Edward - who spent a gap year in New Zealand in 1982 - will send a message of support from London and league star Benji Marshall will host a fundraising lunch in Sydney.
FUNDRAISER PRIZES TO GO GAGA OVER
A pair of shoes worn by pop singer Lady Gaga and a Manchester United package - including a meeting with Sir Alex Ferguson - are among items being auctioned to raise money for Christchurch.
Bids can be made on the Telethon's auction website sella.co.nz/riseup, and all the proceeds will go to the Prime Minister's Earthquake Appeal.
Sella.co.nz general manager Trent Helmbright said Lady Gaga wore the Gucci shoes during a concert in Mexico, and had autographed them.
By yesterday they had attracted a top bid of $2500.
Auctions will close at various times during the Telethon this Sunday.
The Manchester United package was donated by a Christchurch businessman with connections to the club, and has attracted the highest bid of $4000.
It includes tickets to a game at Old Trafford, a meeting with coach Sir Alex, and possible attendance at a training session.
"One of my favourites is Tip Top has donated a year's worth of icecream," said Mr Helmbright.
"We've also got a really good All Blacks jersey signed by the whole squad from last year."
He said people without spare cash to donate during the Telethon could contribute by listing items for auction.
"If you don't have a dollar to spare, maybe you have an old exercycle that you don't need."
And people who did have the cash could make donations to Christchurch while at the same time picking up a bargain, he said.
"We've got a few things like tickets to Motat, to Rainbow's End ... so you're probably going to do that anyway. So one, get it cheaply. And two, the money goes to a good cause."
WHEN AND WHERE TO HELP OUT OTHERS
WATCH:
* Maori TV 9am to 9pm this Sunday.
* Streamed live on www.riseup.org.nz

ATTEND FREE EVENTS:
Auckland: Trusts Stadium Arena, 9am-6pm (Henderson, West Auckland).
Christchurch: CBS Canterbury Arena, 11am-9pm (Addington).
Wellington: Museum of New Zealand; Te Papa Tongarewa, 9am-9pm.
DONATE:
* Donate directly to www.riseup.org.nz
* Bid for or donate items on auction website sella.co.nz/riseup.
* Pledge a donation if a nominated challenge is completed - see www.riseup.org.nz