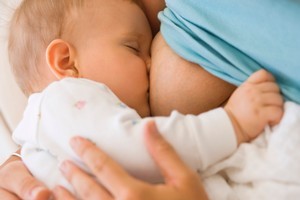 A South Island cafe has received abusive phone calls after its owner asked a mother to cover herself with a tea towel while she breastfed her daughter.
This month Megan Fitzgerald went to Arthur St Cafe in Timaru to get a coffee and to breastfeed her 3-month-old daughter, Jada.
The owner, Juliette Whitley, said she approached Mrs Fitzgerald and asked her to cover her breast with a baby blanket.
However, Mrs Fitzgerald did not have one with her so she was given a clean tea towel to use instead.
Mrs Fitzgerald, who declined to comment to the Herald, then posted her experience on Facebook, which sparked an online campaign to boycott the cafe.
"I was then asked by the waitress to 'please cover myself up while breastfeeding, in that I was not being discreet'. She then told me that 'I was being confrontational'.
I have never been so angry!!!" Mrs Fitzgerald said on her Facebook page.
Others posted support for Mrs Fitzgerald and urged other mothers to boycott Arthur St Cafe.
Mrs Whitley, who is a single mother, said the cafe had received abusive phone calls from angry mothers and that the issue had been blown out of proportion. She laid a complaint with police last week.
"It's actually making me feel scared because they're not doing it in a good manner. They haven't come and seen me and spoken to me about if it's correct," she said. "They're not thinking about things logically. They're just so angry."
Mrs Whitley said she was forced to remove the Arthur St Cafe Facebook page because it had received so many abusive messages from angry mothers.
People had also commented on menumania.co.nz about the incident and had attacked the cafe.
One person anonymously posted: "My friend had a run-in with the owner of the cafe, she was thrown an old dirty tea towel and told to cover up, apparently breastfeeding mothers are not welcomed at this cafe!"
Mrs Whitley said the mothers were being unreasonable.
She said she spoke to Mrs Fitzgerald after the incident and apologised for using the world "confrontational".
"On retrospect my wording was probably not the best, but it was a very busy afternoon and I was shocked at the level of exposure," she said. "I'm definitely not anti-breastfeeding. I breastfed my own son and don't have a problem with it at all. It's just that her shirt was unbuttoned all the way down and it was very exposed."
Timaru woman Fiona Gray heard about the incident through a friend and vowed she would never set foot in the Arthur St Cafe.
"I just find it absolutely disgusting, the way that she was treated."
She said it was not about the fact that Mrs Fitzgerald was asked to cover herself, but the manner in which she was asked.
"To breastfeed in public is extremely daunting, and it takes a lot of courage," she said. "I think if I had been approached like that I would never have breastfed again."
MOTHERS' RIGHTS
* It is illegal under the Human Rights Act for someone to stop you breastfeeding in public.
* The Health Ministry recommends exclusive breastfeeding until babies are about 6 months old.
* It also recommends that breastfeeding mothers should research the places they are going ahead of time, or if you are uncomfortable take pieces of muslin and shawls to shield the breast and baby.
* In 2009, Plunket said 16 per cent of mothers exclusively breastfed babies until they are 6 months old.