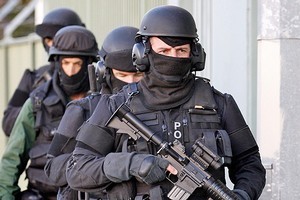 The case of those charged following the Urewera raids is still yet to go to court but a film that shows one side of the story is going great guns.
The documentary Operation 8, by independent filmmakers Errol Wright and Abi King-Jones, premiered last month as part of the World Cinema Showcase and is now opening in cinemas around the country throughout May and June.
It investigates how and why the raids took place, featuring interviews with academics and professionals versed in the case.
Operation 8 was shot over three and half years and includes first-hand accounts from some of those arrested nearly four years ago.
The film's promoters, CutCutCut Films, said screenings it was the most popular film at the showcase festival. It had been organised by locals' request in Christchurch.
In October 2007, citing the Terrorism Suppression Act, police arrested 18 people in nationwide raids linked to alleged training camps in the Urewera mountain ranges, near the township of Ruatoki in eastern Bay of Plenty.
Since then the case has been mired in debate over the admissibility of evidence and surrounded by suppression orders.
Charges were initially laid under the Terrorism Suppression Act but Solicitor-General David Collins ruled out that legislation being used.
Fifteen of the accused now face firearms charges and five of them face charges of participating in an organised criminal group while three others will have separate trials.
The main trial, which was set down to start in the High Court at Auckland on May 30, appears unlikely to go ahead then and Crown lawyers say it may be delayed until next year. It is estimated to take three months.
- NZPA