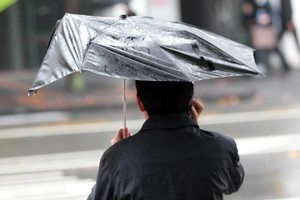 Tornadoes, lightning strikes, flooding and plummeting temperatures have blasted away New Zealand's Indian summer - and forecasters say it's going to get worse this week.
Both main islands have been hit by chaotic weather. Several lines of isolated thunderstorms lashed the North Island yesterday, and in the South Island, farmers sheltered vulnerable stock from the first heavy snowfalls of the season.
Auckland is forecast to be hit by a polar blast tomorrow.
In Nelson yesterday, a mini-tornado battered homes and swept away two trampolines - one of which flew 60m over a house and caught on the top of a power pole.
Mini-tornadoes also struck in the Wellington region and on the Kapiti Coast. One felled 30m trees on sixproperties.
Waikanae resident Nigel Griffith said the brief blast of wind caused "a hell of a mess".
A large pine tree fell on one of his company trucks, causing about $10,000 worth of damage.
"I was surprised at the damage. It bounced off the back, stoving the roof in, pushing the doors out and bouncing the windscreen out.
"Our horses were badly affected by the wind, galloping around, so I had to let them out. And next door, it took down two huge macrocarpa."
Nearly 6000 lightning strikes were recorded throughout New Zealand yesterday. One set a garage on fire in Paraparaumu.
The Fire Service's manager for the central region, Mike Wanoa, said the fire was quickly brought under control, but it was a rare event.
Lightning also hit radio transmitters, interrupting broadcasts in Wellington.
Homes and businesses in the capital were flooded by downpours yesterday morning, when 21mm of rain fell between 6am and 7am.
The Fire Service dealt with 68 weather-related callouts around Wellington, most involving flooding.
A slip near Johnsonville fell onto train tracks, stopping services for most of the afternoon, and State Highway 2 was also closed by a slip.
The MetService is predicting that nearly every part of the country will have high winds, heavy rain or bitterly cold weather before Wednesday.
Last night, it issued thunderstorm alerts for Taranaki, Wellington, Marlborough and Nelson, saying an active front was expected to move over the middle of the country at midnight.
The front could produce gusts of 120km/h, said forecaster Allister Gorman.
The first of two cold fronts - forcing cold air up from the Southern Ocean - had reached Southland last night, bringing snow down to 300m and temperatures as low as 4C.
A stronger front originating near the Antarctic is forecast to arrive tomorrow, storming up the country and reaching Auckland in the evening.
The city's temperature could fall to 8C during the day.
The high winds will coincide with king tides in the North Island.
Residents on Waikato's west coast were bracing for possible sea surges, with swells expected to climb from 4m today to 6m on Wednesday.
Waikato Regional Council duty emergency management officer Sarah Basheer said residents should avoid taking risks near the sea, because it "could become nasty very quickly".
The Transport Agency warned that high tides of 3.6m could swamp low-lying sections of the Auckland motorway network such as the stretch between Waterview and Te Atatu.