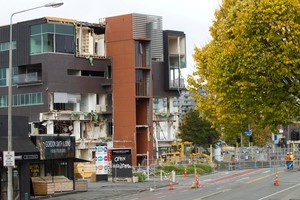 A three-day inquest will begin in Christchurch tomorrow in the hopes of finally registering the deaths of the February 22 earthquake's unidentified victims.
Police have identified 172 of the 181 of the victims killed in the 6.3 magnitude quake. They have names for another nine, but have been unable to match them to remains.
Chief Coroner Judge Neil MacLean earlier said the inquest would hopefully mean the deaths of the unidentified victims could be registered.
Judge MacLean said he aimed to get to the point where the nine deaths could be registered and death certificates obtained.
The inquest would ensure families of the dead could complete formalities sooner rather than later though it would still be some time before the final remains were released, he said.
"Now we've come to a point where some families are facing a worst case scenario where no trace will be found of their loved ones so we need to find a way forward for them."
Christchurch Mayor Bob Parker told NZPA today he expected two things from the inquest.
"One, what are the technical issues that need to be addressed and what level of seismic sustainability should we be building into our city?
"The second outcome is, is there any fault attributable here? Is there blame to be laid on individuals or organisations in anyway at all? But we do need those answers and we are reliant on the Government to ensure that the right people are on those panels."
It looked like the right people had been chosen, Mr Parker said.
The inquest should look into issues such as whether building collapses that happened during the quake could have been avoidable, and what changes needed to be made for future building work, he said.
"So I want an outcome that the city is safe for people and safe for business and never again cost us 181 lives of our people."
Mr Parker conceded it was impossible to make a building completely quake-proof.
"I think it's possible for us to learn the lessons from this event that we've been through and to construct buildings -- although no place on earth can ever say 'we're earthquake proof' -- that can address the shortcomings that cost the lives in the event that befell our city."
Mr Parker said the inquest was "very important" for the families of the people who lost their lives.
"We all need to understand what happened here...I think we're looking for reassurance, we're looking for understanding and that's crucial for the wellbeing, not just of the families who have lost loved ones in this tragedy, it's important for all of us.
"We need security in our city and this is one of the ways we're going to rebuild that -- it could be a most healing process."
The inquest will be held at Riccarton Park racecourse starting tomorrow morning.
The names of the unidentified are:
Women: Jinyan Leng, 30, China; Rhea Mae Sumal Pong, 25, Philippines; Elsa Torres De Frood, 53, a Peru-born New Zealand resident; Xiujuan Xu, 47, China; Didi Zhang, 23, China; Xiaoli Zhou, 26, China.
Men: Matthew Lyle Beaumont, 31, Christchurch; Shawn Lucas, 40, Christchurch; Valeri Volnov, 41, Russia-born New Zealand resident.
- NZPA