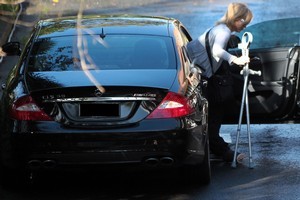 He avoided prison by being allowed to serve home detention in a $4.7 million mansion, with a swimming pool and a tennis court.
Now, disgraced financier John Hotchin has been spotted in his local Countdown doing the family shopping.
But the Probation Service says Hotchin, who was convicted of breaches of the Securities Act, was allowed to be out and about.
Hotchin, the younger brother of Hanover Finance's Mark Hotchin, was sentenced in March to 11 months' home detention, 200 hours community work, and ordered to pay $200,000 reparation. He had pleaded guilty to three charges laid by the Securities Commission, related to the collapse of his company Nathans Finance.
His sentence is being served in luxury in the posh Auckland suburb of Kohimarama. And over the past two weekends the Herald on Sunday has seen him grocery shopping, the first time with his wife Sally.
However, Corrections general manager Community Probation Services Katrina Casey confirmed Hotchin had applied to his probation officer to leave the property at the time he was out and that was approved.
Offenders fitted with an electronic monitoring bracelet and subject to standard conditions can apply for approved absences for certain activities, including work, rehabilitation, study or health care.
When spotted shopping at his local Countdown supermarket at Eastridge Shopping Centre, Hotchin was assisting his wife, who was on crutches with an unknown injury.
Casey said all absences must be approved and monitored by a probation officer. "Applications for absences are considered on a case by case basis, and the instance [mentioned] was approved."
When the Herald on Sunday tried to approach Hotchin at his home this week, we were confronted with wrought-iron security gates at the end of a drive lined with palm trees.
A woman answered the intercom saying Hotchin was home but when we introduced ourselves as being from the media, we were told, "Oh sorry, no, he's not home. Thank you. Goodbye."
Hotchin earlier this month took the stand against fellow Nathans Finance directors Roger Moses, Mervyn Doolan and Donald Young who are on trial for six breaches of the Securities Act. They have pleaded not guilty.
The Corrections Department says recidivism rates for offenders sentenced to home detention are low. In the 2008/09 financial year, 77 per cent of offenders completing a sentence of home detention were not reconvicted of a crime within the next 12 months.