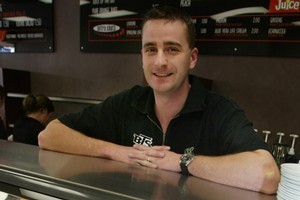 A Hastings man clocked driving at 202km/h was pulled over by a police constable who turned out to be his brother-in-law.
Officers who pulled over James Stanley Buckrell, 36, on January 29, said the late-model V8 Holden Commodore sounded like a "rocket" as it headed towards their parked patrol cars at Trinity Hill Winery about 12.30am.
The co-owner of BJ's Bakery was first clocked by his brother-in-law, Senior Constable Tim Rowe, who pursued Buckrell yet didn't realise who it was until he had stopped.
The two officers at the scene gave evidence in Hastings District Court this week, where the baker unsuccessfully defended a charge of driving at dangerous speed.
Rowe said when shown the radar reading of 202km/h, Buckrell said he had sped because he was "frustrated" after arguing with his partner.
Another officer present, Constable Brendon Berkett, who recorded the identical speed on his radar, took a photograph of the reading. "I've never seen 202km/h," he said.
Buckrell's lawyer, Richard Stone, questioned Rowe about the relationship with his client's sister. "Is it fair to say the two families don't get on?"
"Correct," the officer replied.
He later questioned the other constable as to whether he knew of the relationship, but was warned by Judge Rea: "If you're suggesting the constable [Rowe] came here today to lie because of a family dispute, then you need to put it to him."
Auckland-based accident investigator Neil McKay appeared as a defence witness and said Buckrell would have been able to detect them and either stop or react, despite travelling at 202km/h - 56m a second.
His evidence was slammed by police prosecutor Andy Horne, who said it presented a "best-case scenario" and "glossed over" the possibility of road hazards, such as wandering stock, farm driveways, potholes or a tyre blowout.
Judge Rea quoted earlier case law in which a judge had stated the greater the speed the more compelling the "inference of danger" would be.
"Any number of circumstances could have happened at a speed of 202km/h," he said, in finding the charge proven. "This speed was not only dangerous - it's absolutely crazy."
Buckrell was fined $1250 plus court costs of $132 and disqualified from driving for eight months.
For more articles from this region, go to Hawkes Bay Today