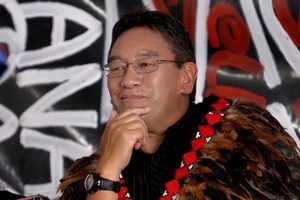 Police investigated threats this week made against maverick MP Hone Harawira and released a man without charge.
Current affairs show Te Kaea reported that the threats were made following Mr Harawira's comments after the death of Osama bin Laden.
Last week Mr Harawira said bin Laden had "pursued independence for his people, his family and his tribe" and that bin Laden's family and people "mourn for the man who fought for the rights, the land and the freedom of his people".
He was criticised and later apologised, putting his comments in the context that Maori do not "speak ill of someone who has died even if such a person has done bad things".
"Using terror for political reasons is never acceptable," he added.
Police confirmed they had investigated threats against Mr Harawira earlier in the week.
"A man was located and cautioned, and the matter is now dealt with," a spokesman said, refusing to release any details of the threat.
Mr Harawira did not want to comment either except to say he had left it in the hands of the police.
This week Keith William Mabey, 21, appeared in Palmerston North District Court for threatening to kill the Prime Minister.
Court documents say the charge related to April 18 when Mabey told a psychiatrist that he knew where Mr Key dined and would "blow him up". He later claimed he was only joking.
Meanwhile Mr Harawira said he was not worried about potentially missing out on up to $80,000 if he won the Tai Tokerau byelection on June 25, but the Mana Party was not approved in time.
In that scenario he would return to parliament as an independent MP, and would miss out on a leader's and party budget.
The Mana Party registered this week, but the electoral commission said it may take six to eight weeks to approve the application.
Mr Harawira said he was "not fussed".
"I didn't do this because of the leader's funding. I imagine it would probably help, but I missed out on the broadcasting allocation as well."
When his resignation takes effect from May 20, Mr Harawira will lose his salary and parliamentary allowances, including travel allowances.
He said he will probably need to take a loan to run his byelection campaign.
"I will have no job, I won't be getting any pay, have access to no resources ... I think I'm going to have to take a loan."
Earlier this week Mr Harawira caused a stir by calling a group of protesters "rednecks" because he was told of "quite vicious and very racist" comments that had been posted about him on a Facebook page.
The protesters had targeted a lecture Mr Harawira was giving at Auckland University on Thursday that was shifted to the university marae after concerns about safety.
Mr Harawira said the protesters were invited on to the marae, and they were not a "bunch of racist rednecks", but civilised participants in the hui.
He said one of them shook his hand afterwards and told him he was not nearly as scary as the media portrayed him.