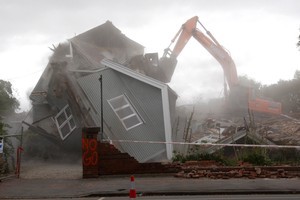 The new head of the Canterbury Earthquake Recovery Authority believes Christchurch can be rebuilt better than before the devastating February 22 earthquake.
Roger Sutton, the chief executive of Canterbury electricity lines company Orion Networks, was yesterday announced as the chief executive of CERA, the agency charged with guiding the earthquake recovery.
He will begin the five year term in mid-June, taking over from deputy State Services commissioner John Ombler, who has been serving as the temporary chief executive of CERA.
Mr Sutton told TV3's Firstline the first priority are resolving issues around the land - much of which may be unusable in the future.
"There are a bunch of people out there at the moment with houses they don't know if they can be rebuilt, they've moved a lot, or may be subject to flooding risk or rock fall risk. Those issues need to be resolved quickly so people can decide whether they can remain in their houses or not in the long term."
Mr Sutton said it was also important to ensure demolitions in the central city are undertaken at the "right pace" and CERA must also deal with economic development as many small businesses will have to close and people will lose their jobs.
"I'm under no illusions it is going to be a very big, tough job and taking the people with us is going to be the big issue. This is not going to be a role which is done by someone in an office directing things. This is going to be a role done by people within CERA making sure people in the community have what they need to get this city really going again."
Mr Sutton already had potential ideas for the city's future, including cycleways along the Avon River and a skating rink in Cathedral Square.
"It has got to be a city where people say it was better than it was before," he said. "We've got to make it a place that people around the world go, 'gee, I really want to go live in that city Christchurch, it's got a real buzz to it, it's got a real energy to it and there are a whole lot of cool things to do there."