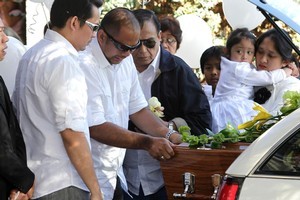 The grieving widow of a man killed in last week's terrifying tornado stood before hundreds of mourners yesterday to speak of the love she has lost.
Benedict Dacayan, 37, died after a tornado ripped through his Albany work site, picking up and throwing the portable office he was working in.
He was one of a team from Fletcher Construction working to dismantle the old PlaceMakers building near the Albany mall and the only person killed in the 200km/h tornado.
His wife, Jeanette, spoke at his funeral, held yesterday at St Joseph's Catholic Church in Takapuna.
"Every time the wind blows it reminds me of you," she said. "I will meet you in heaven. You've been a good husband, a good father and a good provider - and my soul mate."
She said she was "full of hatred" after being told her husband was dead.
"I was so, so angry that he left us without saying goodbye. We were not prepared for it," she said.
"In our marriage vows we said 'for better or worse, till death do us part'. This is our goodbye."
She said making her husband's funeral arrangements reminded her of planning their wedding. "Choosing the church, choosing the flowers, choosing the music ... but now instead of joining me here, he will be joining God.
"To my dear Benedict, we just love you so much and I promise to take care of your children until the day I die."
Mr Dacayan is survived by his son Benedict Junior, 11, and Beatrice, 4.
His older brother Paul spoke of his "perfect brother".
"I can't say anything bad about my brother ... everything is perfect," he said. "My little brother Benedict - thank you for the memories."
T.C. Tan, Mr Dacayan's manager, spoke of his creativity, unique talent and modest nature.
"He was a quiet person, but his friendly nature made him a well-liked person.
We thank you Benedict for having touched our lives in a positive way."
Another colleague paid tribute to a capable, engaged and diligent professional. "He was a man with great integrity, exceptional job knowledge, he was reliable. He really was a man who loved and cherished his family."
He spoke about when the tornado hit. "Everything happened so fast, we really didn't see it coming. It came out of nowhere and caught us totally by surprise. Benedict, you can't begin to measure the void you leave behind, or begin to quantify how much you will be missed."