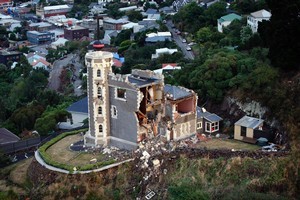 The construction industry is welcoming a cash boost from the Government to train more workers, but warns a lot more may be needed to meet the soaring demand from the Christchurch earthquake.
Prime Minister John Key yesterday announced an additional $42 million will be in next week's Budget to train up to an extra 1500 tradespeople, as well as up to 3000 more construction-related training places from existing funding.
A much larger workforce will be required for billions of dollars worth of rebuilding after the devastating February 22 earthquake in Christchurch.
"What we recognise as a Government is that we don't have all the skills that are required. We do need to train more people," Mr Key said.
Certified Builders Association chairman Allan Shaw said any additional money for training was great news.
"But at the moment, everyone is guessing as to what is going to be required. I think it is the first of a few more steps that are going to be needed. But we have to start somewhere."
Registered Master Builders Federation chief executive Warwick Quinn said the trades sector had been at a low ebb for years and the increased funding was welcome.
"Whether it's enough will depend significantly on how [Christchurch] starts to respond to rebuilding itself."
Normally up to 3500 new homes were built in Canterbury in a good year, he said.
Labour's earthquake recovery spokesman, Clayton Cosgrove, said his party had been calling for more action on trades training since the first big quake in September.
Mr Key also announced that a special skill shortage list would be drawn up to allow employers to import high-skilled workers from overseas. Mr Shaw said he had no objection to foreign workers coming in if it meant filling gaps that New Zealanders could not fill.
"It's not like we are putting New Zealanders out of work. We need action straight away. We can't wait five years to train people."
The Government's Skills for Canterbury package also includes $1.5 million from Work and Income to subsidise 650 people into training and work by the end of next month.
FUNDING FOR SKILLS
The Skills for Canterbury package includes:
* $42m for extra places at polytechs, private providers and industry training organisations if required.
* Up to 3000 more construction-related training places from existing funding.