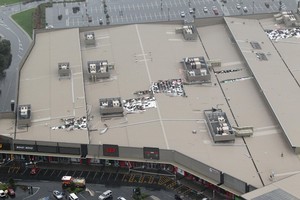 A shopping mall ripped open by a devastating tornado last week was largely back in business today, as the man killed in the twister was laid to rest.
Parts of the Westfield Shopping Centre were shut after the tornado struck on Tuesday but most are now trading again.
Westfield New Zealand director Justin Lynch said repairs to the roof at the western end of the mall were also nearing completion.
Further stores would begin trading tomorrow and over the weekend.
"To have the centre operational with the life safety and engineering certifications in place for trading was a credit to all concerned. The collaboration between all parties, especially the Albany retailers and Westfield team members, has made the process to re-open run efficiently and safely.
"We have been working closely with our retailers to assist them with their store re-openings in a safe and efficient manner," Mr Lynch said.
The fatal tornado caused ten of millions of dollars of damage in the city.
Father of two Benedict Dacayan, 37, from the Philippines, was in a site office at the Albany Megacentre, about 15km north of Auckland Harbour Bridge, when it was picked up and hurled into a wall by the 200km/h twister.
His funeral was held at St Joseph Church in Takapuna this morning, attended by more than 100 friends and family, Fairfax reported.
He was described as a family man and a good husband.
- NZPA