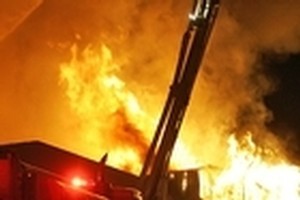 A suspicious fire has destroyed a recently-vacated Mongrel Mob house in Invercargill this morning.
The fire was reported about 12.40am and four fire engines were sent to the empty Severn St house, which was well ablaze when they arrived.
The house was totally destroyed, Sergeant Fred Shandley of Invercargill police told NZPA.
The blaze was being treated as suspicious and police wanted to hear from anyone who may have seen any people or vehicles in the area between midnight and 12.40am, he said.
At this stage it was too early to say how the fire started and CIB would begin investigating later in the morning.
On Tuesday the fortified house was reclaimed by its owner Louis Crimp, after he learned it was abandoned by the gang, the Southland Times reported.
He was trying to evict the gang having realised last year he owned the property and had received no mortgage payments since 1988.
The property was filthy, internal walls had been ripped out and timber planks were lying over the floor. Among items scattered throughout were kitchenware, old furniture, a table, empty alcohol bottles, mouldy kids' toys and books, old stereos, a beer fridge, papers referring to someone's criminal history, a knife and a wooden club, the paper reported.
Mr Crimp had said he would leave the property open to the public until Monday, so they could have a look around and take anything they wanted.
However, the Invercargill City Council, after complaints from neighbours, warned people not to enter the house because it was unsafe after structural material was removed.
Southland police area commander Inspector Olaf Jensen said the Mongrel Mob no longer had a gang headquarters in the city, but some members and associates remained.
- NZPA