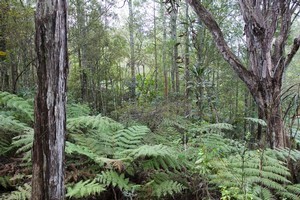 Auckland ratepayers face a bill of more than $1 million to save outstanding trees on private urban sections from the chop when the Government removes "blanket protection" rules next January.
The cost to the Auckland Council of adding thousands of specimens to the schedule of protected trees was previously stated as $100,000-plus.
But the council's regional development and operations committee yesterday received a fresh estimate of the costs of responding to requests to schedule 4300 trees from local boards and public.
This is in addition to the 1376 trees nominated by the seven councils before their merger last November.
Council arborists have to assess all trees, and the council has to make eight legal changes to District Plans and then notify tree owners of the proposed scheduling.
Operative plans manager Warren McLennan said costs had been estimated up to the point of notification.
The work behind the plan changes would cost $792,400, including $374,400 for legal advice, heritage and arborist assessments and internal costs of $418,000 for arborists, planners, mapping and administration.
The figures did not include an assessment of any plan changes that might be needed to protect larger groupings of trees, such as the 1000ha forest in Titirangi-Laingholm or the bush gullies of the North Shore.
Mr McLennan said the final cost depended on a decision expected soon from the Environment Court about whether trees in clusters had to be specifically identified in district plans.
He said the council would send letters to landowners to let them know their trees were nominated and objections had to be heard and decided.
The cost of taking the changes to the point of issuing decisions was likely to exceed $1 million because the number of nominations had increased the scale of the plan changes.
Mr McLennan said the scheduling was a "stop-gap measure" to get adequate protection in place before the Resource Management Act change came into force on January 1.