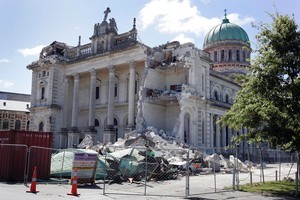 Hopes are high that one of New Zealand's best-known and sacred buildings can be restored, and perhaps even improved, after being badly damaged in the Christchurch earthquakes.
But those working to repair the internationally recognised Catholic Cathedral of the Blessed Sacrament say the extent of the damage, and the required costs, will not be revealed until the large dome sitting atop the cathedral is removed.
The copper-clad, timber-framed dome - weighing tonnes and with a circumference of 30m - poses a constant risk. It will be lifted off in an operation that will be the first of its type, so a proper assessment can be done.
The cathedral, completed in 1905, is the Catholic church's spiritual home in Canterbury.
It was badly cracked and parts of it crumbled off in the quakes that struck in February and last September.
"Our hope at this stage is to restore the building back to its former glory, and maybe improve it at the same time," said chairman of the cathedral management board, Lance Ryan.
"Unfortunately that's going to come at a cost. Perhaps it could be $100 million. It's just unlimited at this stage.
"The pressure will be on because of the historic nature of the building, and because it's one of a kind in New Zealand."
A camera put inside the building had shown severe damage - "a lot worse than we initially thought".
Complete demolition of the cathedral was not an option "at this stage".
The cathedral's architecture was recognised worldwide, Mr Ryan said.
"I was told by experts it's equal to anything in Florence, and we are lucky to have a building of this type in New Zealand.
"So we have got to make every effort to save it."