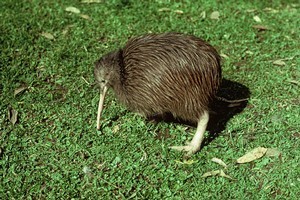 A kiwi has reportedly made its way 14,000km to a Russian city park, with warnings it could turn hostile and suspicions it may have been smuggled.
Russian media reports said the kiwi was found in a "decorative garden" near Sochi port and local conservationists were concerned for its safety. An expert in New Zealand has warned the Russians that kiwi can be aggressive, have a powerful kick and have been known to kill possums.
Queenstown's Kiwi Birdlife Park senior officer Paul Kavanagh told Radio New Zealand that it must be handled properly as it has the potential to be "skittish".
"This is such a strange story, I'm shocked. It baffles me because kiwi are nocturnal and very shy ... I've never heard of a black market involving kiwi.
"If you don't know how to handle one, they can be very aggressive. If anything were to happen to the kiwi it would be such a shame."
A Department of Conservation spokesman said he was very surprised to hear about the kiwi and was baffled about how it might have got there.
"We're still waiting to hear back for confirmation and to get some more details, but at this stage it seems unlikely ... but then again, stranger things have happened," Reuben Williams said.
He warned that similar reports have turned out to be hoaxes. DoC had not been able to contact Russian enforcement officers.
He said the nearest kiwi enclosure was in Germany and said it was extremely unlikely to have travelled from there.
"It certainly didn't fly there."
However, if a kiwi was in Sochi he said there were a number of options that DoC could look at including a team being sent to retrieve the bird or it being given to a zoo.
Sochi has a moderate climate, not unlike New Zealand's, so the kiwi had a good chance of survival.
There are about 50,000 kiwi left in the world, but that number is decreasing and the birds are threatened with extinction.
World Wildlife Fund spokeswoman Jen Riches said it had received no reports about a kiwi being found in Russia.
- additional reporting NZPA