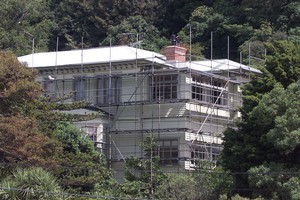 Prime Minister John Key has batted away criticism over a $275,000 makeover for his Wellington residence - the latest in a string of taxpayer-funded government activities being questioned.
The renovations for Premier House included a $215,000 painting bill, $55,366 on re-carpeting and more than $3000 on new blinds.
Labour MP Chris Hipkins said the Premier House makeover reeked of hypocrisy.
"Every Kiwi family struggling to pay the bills knows that if you can't afford to pay for dinner, new carpet and curtains for the lounge get pushed a long way down the list," Mr Hipkins said.
"Struggling Kiwis simply don't live in John Key's world where you can afford to be splashing out on heated seats in brand new BMWs and to jet around the world in military planes.
"John Key apparently can't set an example and make do until the economy picks up."
Mr Key defended the spending this morning, saying the property had not been painted for 11 years.
"If we don't paint you've got an asset that would devalue," he told TVNZ's Breakfast.
"My view is it's a historical building, it's one of very few we have, they probably should go on preserving it."
Mr Key said he was happy to take any scrutiny he was put under, but questioned Labour's focus on the "smaller issues".
"We are a couple of weeks out from the budget, and we're six months out from an election so what is Labour talking about? In the scheme of things, very minor things."
Mr Key was last week criticised for a helicopter ride he took in 2009, which cost taxpayers $2000.
Foreign Affairs Minister Murray McCully was questioned about why he took an Air Force Boeing 757 to fly to a meeting in Vanuatu in February, costing more than $65,000. Mr McCully said it was the most efficient option, because it allowed him to get back in time for Australian Prime Minister Julia Gillard's visit to New Zealand.
Earlier this year, the Government's decision to replace its three-year-old fleet of BMWs also made headlines for being at odds with the aim of reducing spending.
- NZPA