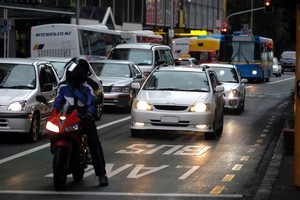 The number of motorists being issued bus-lane fines in Auckland has more than doubled since December, rising at least 25 per cent every month this year.
The council issued $1.96 million worth of bus-lane tickets in the six months from October - despite Mayor Len Brown saying he would not use bus lanes for revenue gathering.
Auckland Transport spokeswoman Sharon Hunter said the number of infringements during the period was down 6.8 per cent compared to a year ago and represented "good news".
"It is our analysis that Auckland's motorists are becoming much more familiar with rules around bus lanes, hence the substantive drop we are seeing."
However, last year's total included a spike in January and February which followed the reopening of Grafton Bridge.
In the most recent month for which statistics are available, the council issued 15 per cent more fines this year than last year.
During last year's election campaign, Mr Brown repeatedly criticised Auckland City Mayor John Banks for his council's position on bus-lane fines.
"The issue here is the designated policy to get revenue ... so you can keep your rates low. It's not right," Mr Brown said at one mayoral debate in August.
Last night, Mr Brown said his commitment on such fines was clear - "they are not to be used to achieve revenue targets and they are not the best way to educate motorists".
The mayor has asked Auckland Transport for a briefing on the level of the fines, and progress on work to improve bus and high-occupancy-vehicle lanes throughout the region.
The figures from March show that more than 93 motorists were ticketed every day - a total of 2907 tickets worth $436,000, up almost $60,000 compared to March 2010.
If ticketing continues at this rate, the Super City will have imposed more than $4.5 million worth of bus-lane fines in its first 12 months of existence, exceeding the $4.2 million to last July that sparked a flood of outraged reaction to the Herald.
Ms Hunter said Auckland Transport was interested in encouraging compliance rather than handing out tickets, and it was reviewing bus lanes around the region to make sure road marking and signs were consistently good.
"Auckland Transport is focused on behaviour change, not revenue gathering," she said.
The council-controlled organisation had made no changes to the policies around the issuing of tickets for infringements, and there had always been some leniency for motorists.
Bus-lane hard line raking in millions
On a recent weekday morning, a bus-lane officer policed Quay St near Vector Arena for 90 minutes from 7.30am.
He said that there was an officer there twice a day every day of the working week, policing it both morning and afternoon.
The Herald monitored the enforcement from 8am to 9am and counted 24 buses using the lane, 61 motorcyclists and 38 cyclists.
The traffic ground to a halt at 8.12am because of congestion, setting off a series of cheaters who sped past the line of cars in the bus lane.
However, 80 per cent of them moved into the bus lane only after they had passed the officer's camera.
Seventy-seven drivers made a left turn into Tapora St, but almost all of them waited until they had reached the intersection and drove across the bus lane at the last moment.
One motorist left his turn so late that he was forced to do a u-turn in front of a bus he cut off; another swerved in front of a motorcyclist, causing a near-miss.
Auckland Transport said it was not aware of any issues caused by motorists leaving their turns too late when confronted by bus lanes.
But during the hour the Herald kept watch, virtually every driver put off turning until the last moment - after they had passed the enforcement camera.