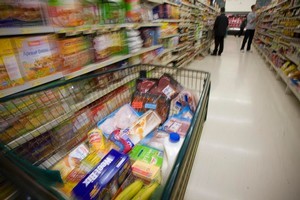 A family of five could save $250 a week by making small adjustments to their driving, supermarket shopping and electricity use, according to Herald on Sunday research.
Our budgeting, savings and consumer experts pooled top tips for saving money - and insist the family will barely notice the changes.
The expert advice was as simple as buying frozen whole chicken instead of fresh (saving $5) or cutting 10-minute showers in half ($12.50 a week).
Buying yoghurt in 1kg containers instead of six-packs shaves $3 off the shopping bill and making muffins instead of buying lunchbox treats saves more than $30 a week, Mangere Budgeting Services chief executive Darryl Evans said.
Consumer New Zealand's latest survey of supermarkets found a basket of items that cost $120 at Pak'n Save would cost $145 elsewhere.
Frank Newman, author of Living Off the Smell of an Oily Rag and oilyrag.co.nz, said cleaning products were another drain on family budgets - a quick Google of the ingredients could save hundreds each year.
"Some of those products are just basic ingredients such as baking soda. Once you find out what the key ingredient is, just buy that."
Many of the best ways to save money require only minor changes in behaviour.
Washing clothes in cold water takes the cost per load from 40c to 4c, according to Consumer NZ. Hanging out clothes instead of using the drier saves 92 cents each time.
With petrol prices creeping above $2.20 a litre, the New Zealand Transport Agency has tips to cut your fuel spend by half:
* Brake sooner and accelerate slower (25 per cent)
* Pump up the tyres and get your car tuned (10 per cent fuel saving)
* Remove the roof rack (10 per cent).
* Avoid short trips - you use 20 per cent more fuel driving on a cold engine.
Thanks to compound interest, if just half of the $250 saving was put into a savings account each week, your family would have a nest-egg of more than $6500 by this time next year.
Retirement Commission executive director David Kneebone said many people couldn't believe the information they got from its website sorted.org.nz.
A debt calculator reveals you could save $50,000 by increasing mortgage payments from $1500 to $1600 a month. And fortnightly payments made a significant difference over the life of the loan.
Kneebone said saving in your 20s and 30s was much more efficient than waiting until later in life.
Putting aside $25 a week would add up to $41,658 over 20 years against $32,635 if you saved $50 a week over a decade.
Get Interactive into inexpensive food
Ringing for fish and chips can seem like the only solution when you're staring into a near-bare cupboard at dinner time.
But turning those tins of tomatoes and leftover vegetables into a healthy meal is only a few clicks away with the Nutrition Foundation's online programme The Interactive Kitchen.
The tool, available on Facebook and Justcook.co.nz, lets users select three or four ingredients and comes up with easy recipes.
The Just Cook website also has a list of affordable supermarket basics to make family cooking quick and hassle-free. Healthy food campaigner and mother-of-two Allyson Gofton hoped the tool would crush the misconception of homecooked meals being expensive and time-consuming.
"I can cook a family meal quicker than I can go to the takeaway shop. I don't make red wine and garlic casseroles. My kids love things like mince and pasta, they think it's the best thing under the sun."
Interactive Kitchen recipes cost about $3 a serve, and take less than 20 minutes to prepare.
Chefs will demonstrate ways to create the foundation's family meals in Auckland's Queen Elizabeth Square from tomorrow to Friday.