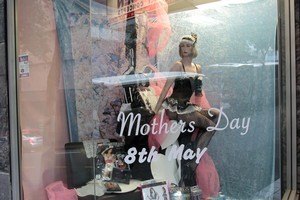 Show your mother you love her this Mother's Day - by buying her a sex toy.
It's perhaps a slightly less unusual line than some might think, with the owner of Auckland adult store chain The Den reporting sales around Mother's Day were his third busiest period of the year. Adrian Jones said only Valentine's Day and Christmas brought bigger buying sprees.
He said about 30 per cent of the Mother's Day shoppers were children, mostly young women buying items for their mothers. Husbands were the main buyers.
Lingerie, gift vouchers and "top of the line vibrators" were popular.
However, religious leaders want people to be aware of what the day was all about.
Dean of Auckland's Holy Trinity Cathedral, The Most Rev Jo Kelly-Moore, said Mother's Day originated from young men and women servants getting a day off to visit their mothers.
"It was a day to celebrate being with your family and honouring those relationships," she said.
Monsignor David Tonks said children should do things that would mean something to their mother.