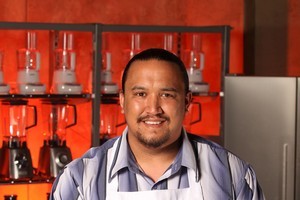 It's crunch time for the final three contestants in tonight's MasterChef semifinal.
Jax has proven she can handle the pressure but Stu needs to get back to basics because the judges seem to be losing patience with him. He has to nail everything or risk finding himself on the outer.
Meanwhile, Nadia needs to control her emotions and concentrate on the task at hand.
I think the challenge this week is the best yet. The competitiors have to showcase their style with three dishes they would have in their own cookbooks.
When I got eliminated, I couldn't help but feel that I didn't get the chance to show my strengths and what food represented who I am. If I were to write a cookbook, it would be about my passion for food-gathering hunting and diving and turning those ingredients into gourmet dishes.
The contestants have the opportunity to find a point of difference that will make them stand out. But it's not only the judges they have to impress Donna Hay is in the house. She has written 18 books and sold about four million copies so she knows what it takes to write a good recipe.
I have one of her books, The Instant Cook, and it's not hard to see why she's so successful, it's simple food presented exceptionally well.
So I think that's what the judges will be looking for. It sounds easy enough, but is it?
CAMERON'S EXCLUSIVE RECIPE FOR HERALD ON SUNDAY READERS
Wild pork and sage burgers with red wine and balsamic onions

Ingredients
* 300g wild pork or pork mince
* 1/2 small brown onion, finely sliced
* 1 garlic clove
* 1 egg beaten
* 1/2 cup chopped sage
* 70g salad greens
* 1 round Camembert, sliced
* 2 burger buns
* 1 tomato, sliced
* 1 red onion, sliced
* 125ml red wine
* 80ml balsamic vinegar
* 2tbsp brown sugar
* 20g butter, cubed
* oil
* salt and pepper

Method
1. Dice onion and garlic, and `sweat' in a hot pan until soft but not coloured. Set aside to cool.
2. Place mince in a bowl and add the onions, sage and beaten egg. Season and mix well. Shape into two patties.
3. Put patties in hot pan with oil and brown (about 2 minutes a side). Place in pre-heated oven at 150C to finish cooking (about 8 minutes).
4. Fry onion gently until soft, add red wine and reduce by half. Add balsamic vinegar, reduce, stir through brown sugar and add two knobs of butter.
5. Toast burger buns. Top with salad greens, tomato, camembert and then patty. Spoon over sauce.